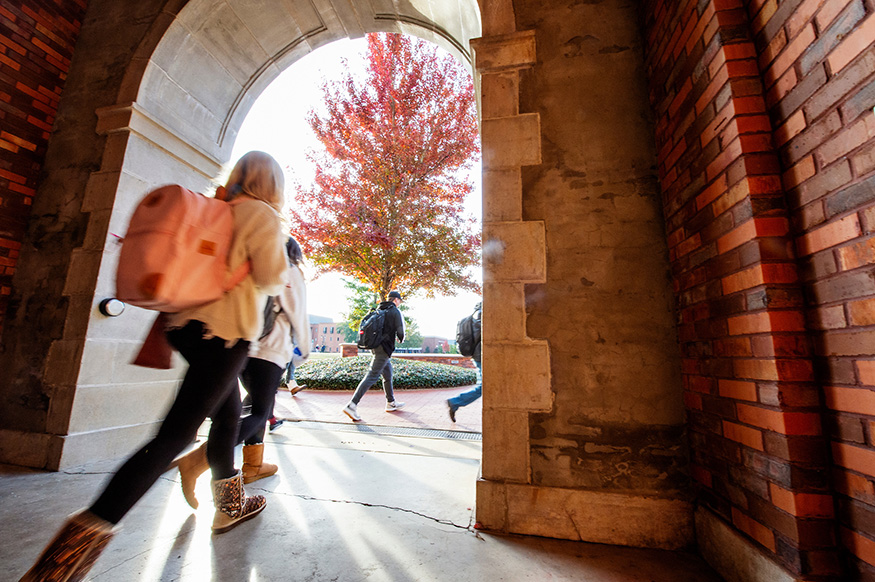 Contact: Harriet Laird
STARKVILLE, Miss.—As prospective college students continue to navigate admissions and enrollment processes in a relentless and lingering pandemic, Mississippi State continues its student support into the new year with testing waivers.
Students applying to MSU's Graduate School will have the GMAT and GRE tests waived in many of the university's on-campus and online programs. Also, those applying for entrance into many of the College of Education's teacher training programs or working toward teacher certification will have testing waived as defined by the Mississippi State Board of Education.
MSU Provost and Executive Vice President David Shaw said, "We hope the waiver of these testing requirements gives prospective students one less thing to worry about as we look to the start of the new year. Our faculty and staff are looking forward to welcoming students as they begin academic programs in 2021."
Enrollment in MSU's Winter Session runs through Dec. 2, and the last day to register for the 2021 Spring Semester is Jan. 13.
MSU's Graduate School program coordinators are available to answer questions specific to fields of study within the university's eight colleges. Students can visit https://www.grad.msstate.edu/students/graduate-programs to find these coordinators for each program.
For students coming to MSU from countries where English is not the first language, the Test of English as a Foreign Language—TOEFL—or the International English Language Testing System—IELTS—still will be required and results are accepted up to five years from the test date. The university is currently considering the addition of the Duolingo Test of English proficiency as an alternative to TOEFL and IELTS.
All other requirements still need to be met for Graduate School admission and can be found at https://www.grad.msstate.edu/news/2020/09/2021-test-score-requirements. Staff are available to answer questions via telephone at 662-325-7400 or email at gradapps@grad.msstate.edu.
Executive Vice Provost and Dean of the Graduate School Peter Ryan said, "Mississippi State is very mindful and very sensitive to the stress current and prospective students continue to experience during COVID-19, and we're extending these test waivers to help reduce any anxiety or worry."
For prospective College of Education students, waivers include both traditional (undergraduate) and non-traditional (graduate) teacher education programs and approved traditional or non-traditional educator or administrator preparation. The licensure exams have been waived for the following MSU programs: Elementary Education; Secondary English, Math, Biology, Chemistry, Physics and Social Studies Education; Special Education; Music Education; Physical Education; School Administration; School Counseling; School Psychology; Master of Arts in Teaching-Secondary; and Master of Arts in Teaching-Special Education.
"We're encouraging our teacher interns to take the licensure exams if they are considering working in other states because we don't know every state's requirements," said Donna Shea, director of Clinical/Field-Based Instruction, Licensure and Outreach.
The educator preparation program admission testing requirement for teacher education, which includes the ACT/SAT requirement or the Praxis Core Academic Skills for Educators examinations, has also been waived. Grade Point Average (GPA) and all other criteria for MSU program admission remain in effect.
Shea said, "Students are being admitted under the waivers, but traditional route students should keep in mind that they have to provide a full application for a standard educator's license by Dec. 31, 2021, or they will have to obtain passing scores on all licensure exams before the Mississippi Department of Education will issue their license. Traditional route students should also note that they must submit a full application for a standard educator's license by Dec. 31, 2023 or they must retroactively meet the ACT/Praxis Core/SAT admission requirement before MDE will issue their license."
For more information on education program waivers, contact Shea at dshea@colled.msstate.edu or 662-325-7684.
For a complete list of MDE's new admissions and licensure requirements, visit https://www.mdek12.org/COVID19.
MSU is Mississippi's leading university, available online at www.msstate.edu.