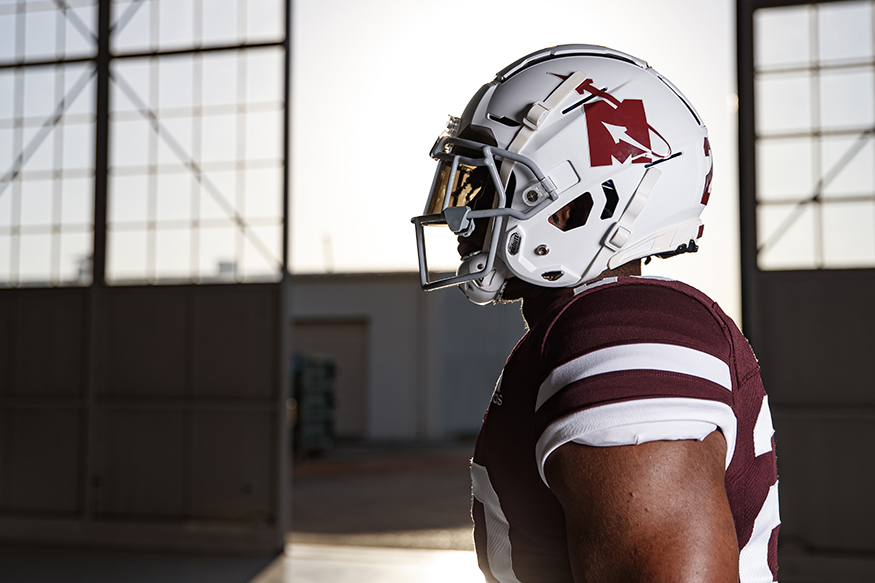 Contact: Chris Bryant
STARKVILLE, Miss.—Mississippi State's history of leadership in aerospace research and development, Bulldog "air raid" offense, and a nod to the university's history mark the return of a vintage logo to MSU football uniforms this week.
MSU will sport the return of the Flying M—a mark used in the 1960s and 70s to reinforce the university's strong connection to the NASA space program and success in producing engineering talent —during its Nov. 7 football game against Vanderbilt.
Videos and photographs produced by MSU Athletics' Creative and Digital Strategy team for the unveiling were shot in and around the Advanced Composites Institute, part of MSU's Raspet Flight Research Laboratory.
"The space at Raspet's Advanced Composites Institute provided the perfect visual environment for us to produce our video and photography package," said Drew Walker, assistant athletic director of creative video. "Combining the lab's visual possibilities with its rich tradition in helping grow manufacturing operations and aerospace companies made this setting for unveiling the Flying M almost poetic."
ACI conducts research and evaluations of composites — materials made from two or more different materials that, when combined, are stronger than the individual materials themselves. In ACI's case, these stitched-resin materials have use in a variety of fields, including the aerospace, energy and automotive sectors. ACI's research focuses on ways of developing stronger, lighter and more damage resistant structures.
Former MSU linebacker Tim Washington, a Yazoo City native who earned his MSU degree in industrial technology and is pursuing a master's degree in workforce education leadership, served as the model for the production at ACI.
In addition to utilizing the space inside and outside ACI's 28,000-square-foot high bay area, the production crew's filming and photography efforts also centered around ACI's 20-by-50-by-10 programmable oven, normally used to increase parts' strength, stability and other properties through curing.
"It's always rewarding to partner with our campus colleagues, including MSU Athletics, on mutually beneficial projects," said Christopher Bounds, director of the Advanced Composites Institute. "We typically think of our space and equipment primarily from the scientific perspective, so it was fun for our team to see alternative uses for it. A tip of the Bulldog cap to Paige McCraine, our operations manager, and Earl Sloan, our safety coordinator, and all the ACI team for their contributions to the effort."
Raspet has a global reputation for composites research and has served as a technology incubator for multiple composite manufacturers that now have permanent Mississippi homes. The lab has helped develop and grow Mississippi-based manufacturing operations of several aerospace companies, including Aurora Flight Sciences, GE Aviation, Airbus Helicopter, Boeing and IAI North America.
MSU's Raspet Flight Research Laboratory is the only institution in the world that is designated both as the FAA's UAS Safety Research Facility and as an official UAS test sites for both the FAA and the Department of Homeland Security. Home to a fleet of the largest and most capable unmanned aircraft in academic use, Raspet has secured over $50 million in federal research and testing contracts since 2017 and remains a world leader in composite materials research.
MSU is Mississippi's leading university, available online at www.msstate.edu.