Contact: Christie McNeal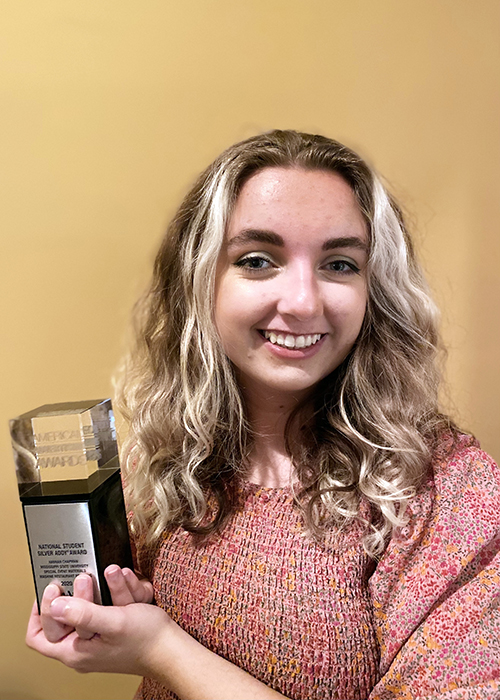 STARKVILLE, Miss.—A restaurant branding project by a senior Mississippi State graphic design student is being recognized nationally by the American Advertising Federation.
Hannah G. Chapman of Madison has received a silver award in the 2020 National AAF Student ADDY Competition for her project, "Mashine Speakeasy."
The project is one of 5,083 entries qualifying for the national competition after winning gold or first place in district competitions. From these, the national AAF selected 26 gold and 31 silver recognitions.
"Mashine Speakeasy" is the result of MSU's Edible Type Awards, a competition in which Typography I students are tasked with branding a restaurant based on an assigned typeface.
"With guidance from my professor Cassie Hester, I determined that my typeface—Mashine, designed by Tim Ahrens—was a rather sharp, masculine and sophisticated typeface and decided its personality would be well represented as a speakeasy," said Chapman, who used this inspiration to create a restaurant logo, menu, stationery, pins and other items for her assignment.
"Since four months of my junior semester were spent intensely working on this project, I feel very humbled and honored that Mashine has received national recognition," she said. "I would not have been able to receive this award without the help and support of my professor and fellow classmates, and thanks to them I have grown exponentially as a graphic designer. I'm proud to be able to represent Mississippi State University and its art department in this way."
Formerly the ADDYs, American Advertising Awards recognize creativity and excellence in the field. MSU students regionally compete with AAF Tuscaloosa, one of 210 member clubs across the nation. There are 14 district competitions with winners proceeding to the national finals.
Learn more about MSU's College of Architecture, Art and Design and its Department of Art at www.caad.msstate.edu/art and on Facebook, Twitter and Instagram @CAADatMSU.
MSU is Mississippi's leading university, available online at www.msstate.edu.