Contact: James Carskadon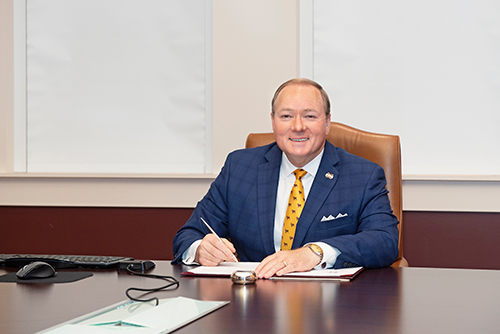 STARKVILLE, Miss.—Mississippi State and Alabama A&M leaders met virtually Tuesday [Dec. 15] to formally strengthen research and academic ties between the two universities.
MSU President Mark E. Keenum and AAMU President Andrew Hugine, Jr. signed a memorandum of understanding to develop competitive research programs that are beneficial to both universities. MSU and AAMU are both land-grant institutions with historical strengths in agriculture and engineering, and also share a common mascot, the bulldog.
"MSU has many outstanding partners in the Huntsville area, and I am proud today to expand our relationship with Alabama A&M University," Keenum said. "AAMU fully embodies the teaching, research and service missions that are at the heart of land-grant universities. By working together and leveraging our complementary strengths, we can create new opportunities that benefit both of our institutions."
"Alabama A&M University is honored to enter into this MOU with MSU, a flagship institution known internationally for research and the production of world-class leaders," Hugine said.  "As land-grant institutions, we are well aware of the unique resource and other challenges that could impair our abilities to carry out our noble missions.  By partnering in such a way, we are strengthening the capacity of both institutions to serve their constituencies, provide quality research and to reach the underserved."
As outlined in the MOU, MSU and AAMU will encourage and support inter-institutional research proposals and teams in targeted areas, share best practices in sponsored programs administration, regulatory compliance and technology commercialization, and facilitate faculty exchanges. Additionally, the MOU can be used to increase graduate school opportunities for AAMU graduates.
With the Huntsville region serving as a hub of public and private-sector research, the MOU positions MSU and AAMU to enhance competitiveness for research grants and contracts. Well-known for scientific innovation, impactful outreach and productive partnerships, MSU is a top-100 research university nationally and classified as an R1 "very high research activity" institution by the Carnegie Foundation. Research performed at AAMU facilitates the education of its students, the acquisition of new and important technology and information and the enhancement of faculty skills. As a result of these efforts, AAMU has achieved considerable prominence within the state of Alabama and throughout the United States.
For more on AAMU, visit www.aamu.edu.
MSU is Mississippi's leading university, available online at www.msstate.edu.