Contact: Landon Gibson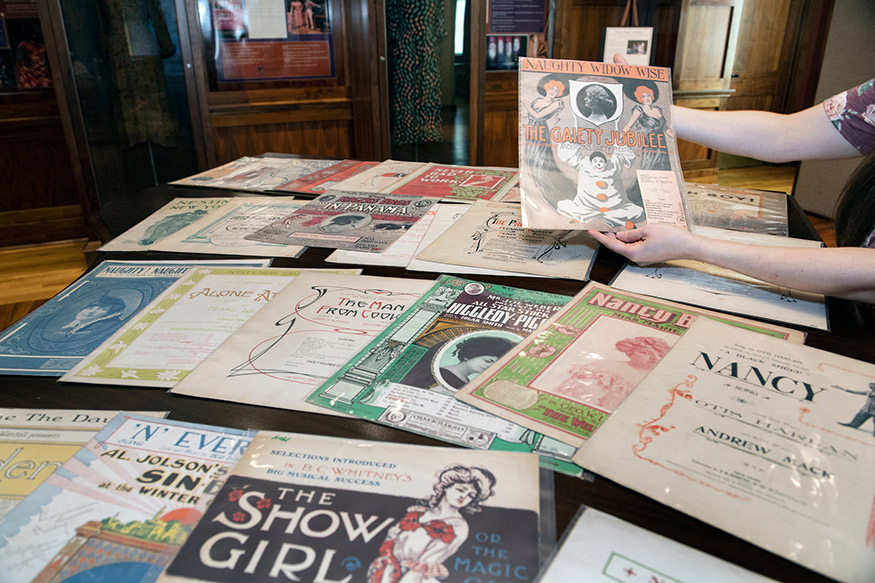 STARKVILLE, Miss.—Mississippi State University Libraries is significantly expanding its printed music resources and becoming one of the largest sheet music repositories in the country with the donation of the Janice Cleary Sheet Music Collection.
A resident of Omaha, Nebraska, Cleary assembled one of the largest sheet music collections in the United States, spanning over 175 years and containing nearly 50,000 pieces featuring a wide variety of composers including George Gershwin, Eubie Blake, Charles L. Johnson, Cole Porter, Henry Mancini, Jerry Herman and Andrew Lloyd Webber.
For many years, MSU has possessed the Charles H. Templeton Sr. Sheet Music Collection with over 20,000 sheets of show tunes, ragtime and popular music dated as early as the 1860s. Like the late Templeton, Cleary especially loves the ragtime genre.
"Adding a collection of this magnitude and significance to the library will not only greatly expand the holdings of the library but also the type of research that can be conducted here," said MSU Libraries Associate Dean Stephen Cunetto. "This collection will be used for years to come by musicologists, artists interested in sheet music covers and those studying the influences music has on society."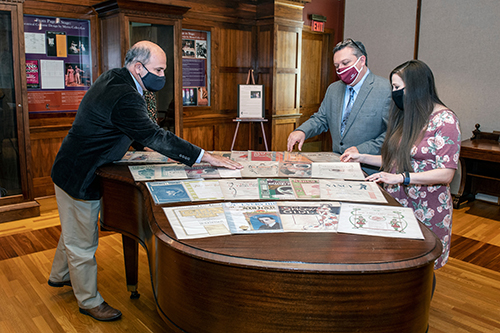 Internationally renowned pianist, ragtime entertainer and seven-year Templeton Ragtime and Jazz Festival artistic director Jeff Barnhart encouraged the Cleary family to donate their extensive collection to MSU after Cleary's son Jim reached out seeking a new home for it.
As Barnhart recounts, "Janice Cleary, who is still with us at the age of 95, couldn't read a stitch of music but enjoyed the way her collection brought people together to perform, listen to and enjoy pieces found therein. She also wanted to be sure her collection would be shared by as many people as possible into perpetuity," he said.
Barnhart's encouragement to the family was due to his knowledge of the care and effort the university gives to preserving and providing access to its holdings. MSU has received much recognition for preserving physical pieces of the Templeton Collection and making them available digitally.
"Mrs. Cleary did a fantastic job of preserving the collection, and we look forward to exploring it more in the days to come," said Cunetto. He said the Cleary collection will be housed in Mitchell Memorial Library's Special Collections.
Cleary's love for ragtime began when her late husband John took her to the movie "Alexander's Ragtime Band." Years later, the Clearys heard touring Robert Darch, nicknamed "Ragtime Bob," play his ragtime special at a local hotel lounge in Omaha, Nebraska. Darch, a native of southwest Missouri, was an original ragtime musician who helped establish one of the country's first ragtime festivals. Cleary discussed sheet music with Darch, and he encouraged her to start a collection.
From that point, she developed a passion for collecting. The Clearys also hosted a ragtime party in 1971 that drew attendance from Darch and other ragtime personalities including Eubie Blake, Joe Jordan, Charlie Thompson and Steve Spracklen.
According to Omaha World-Herald's late columnist and ragtime buff Wally Provost, organization is part of what makes Cleary's collection so special. She programmed a searchable computer system with sheet music details ranging from title, composer, city of publication, tempo, cover art, and whether the music was written for a minstrel show, vaudeville or family harmonizing.
For more on MSU Libraries collections, visit library.msstate.edu.
MSU is Mississippi's leading university, available online at www.msstate.edu.