Contact: Sarah Nicholas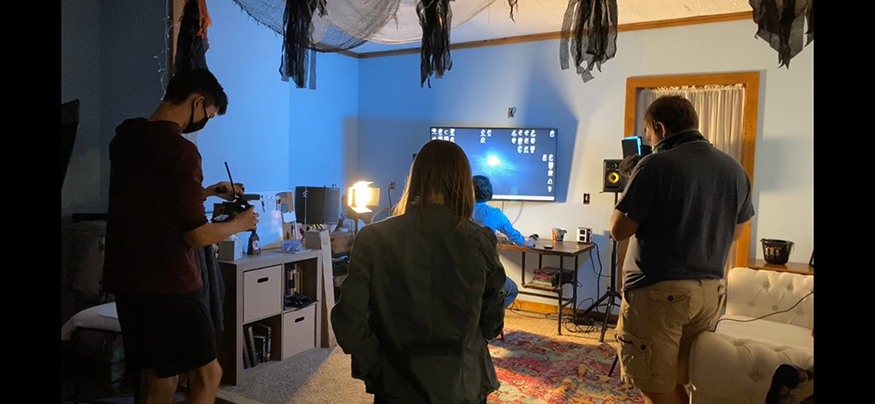 STARKVILLE, Miss.—A Mississippi State student organization is being recognized for winning first place this month in a national competition with its inaugural submission to the Broadcast Education Association's 168-Hour Film Challenge.
MSU's BEA Student Media Club—recognized on campus as the 2019-2020 New Student Organization of the Year by the university's Division of Student Affairs—is claiming the first-place honor for the student-produced film "Five Minutes."
The film revolves around an awkward gamer who is about to meet his internet girlfriend for the first time. When she announces her arrival an hour earlier than planned, chaos ensues.
BEA is the premier international academic media organization, providing opportunities for "juried production competition and presentation of current and scholarly research related to aspects of the electronic media."
The organization's 168-Hour Film Challenge is a competition between student media clubs across the U.S. that requires specific elements for the short-length films. Teams have 168 hours, or one week, to develop their finished product. Because of the COVID-19 pandemic, BEA this year expanded time for students to complete their film projects for the competition previously known as the 48-Hour Film Challenge. Required elements included genre, character names, a line of dialogue and a prop.
"When I arrived at MSU last year I told our faculty that we can compete and win at the state, regional and national levels," said Terrence "Terry" Likes, professor and head of MSU's Department of Communication who organized MSU's BEA student group in 2019 and continues to serve as advisor.
"I felt the need to create our student BEA chapter to showcase the excellent teaching from our faculty evident in the creative work our students produce, and I am thrilled for the students and the faculty," Likes said.
The award-winning film competition participants include, by hometown:
LOUISVILLE, Kentucky—J. Hun-En Joswick, a senior art and photography major who served as project director of photography, cinematographer and actor playing the character "Jay Walker."
KATY, Texas—Christopher D. LoNigro, a junior communication/broadcasting major who was the film's assistant producer and an actor playing "guy at the door."
CLINTON—Carra Faith Spencer, a senior fashion design and merchandising major who was costume designer, make-up artist and played the role of "PrimRose27."
HERNANDO—Jon M. Tackett, a senior communication/theatre major who served as project script writer, director and an actor playing "Russel Sprout."
STARKVILLE—Hannah M. Vandie, a senior communication/broadcasting major who was the film project's producer and editor. Vandie also serves as president of MSU's BEA Student Media Club.
Likes said in addition to showcasing MSU student talents, this recognition also spotlights the collaboration among MSU's BEA Student Media Club and The Scene, an MSU student organization devoted to film making and advised by communication instructor Melanie Harris.
"We need to position our students to create, display and win with their multimedia work," Likes said. "Students can list these awards on their resumes showing employers they have achieved at a high level and that Mississippi State students are top notch." Referring to the media industry as "competitive," Likes said students compete against "dozens, sometimes hundreds," for open job positions.
Vandie said the experience and recognition have been rewarding for all involved.
"In the process of shooting we had many challenges, but I am so proud of everyone on the team for all the hard work they put in," she said.
Vandie emphasized that utilizing individual skills from across disciplines helped form a strong team.
"The team was not just broadcast majors," she said. "For example, I strategically reached out to an art photography professor and was able to connect with Joswick. He had a strong film, camera and art background to pull it all together."
MSU's College of Arts and Sciences includes more than 5,200 students, 323 full-time faculty members, nine doctoral programs, 15 master's programs, and 27 undergraduate academic majors offered in 14 departments.  It also is home to the most diverse units for research and scholarly activities, including natural and physical sciences, social and behavioral sciences, and the humanities. For more details about the College of Arts and Sciences or the communication department, visit www.cas.msstate.edu or www.comm.msstate.edu.   
MSU is Mississippi's leading university, available online at www.msstate.edu.