Contact: Sasha Steinberg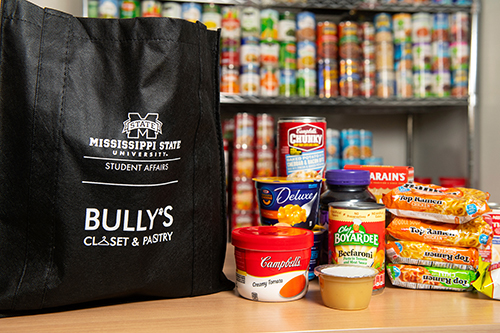 STARKVILLE, Miss.—Mississippi State's Graduate School and the Graduate Student Association are collecting supplies Jan. 19-29 for Bully's Closet and Pantry and the university's Block by Block Program.
Bully's Closet and Pantry provides nutritious food, toiletries, professional clothing, school supplies, and other necessary items to current MSU students free of charge. It is part of the MSU Food Security Network, a broader initiative to meet students' basic needs.
The Block by Block Program is a partnership between Aramark, the MSU Dean of Students' Office and the MSU Student Association. It provides short-term assistance by allocating meals to students in need. MSU students with a valid meal plan can donate up to three block meals per semester to this program.
Donation items can be dropped off at the Graduate School, 617 Allen Hall. All members of the campus and local community are welcome to participate.
Most needed food items include:
—Meals in a can (beef stew, chili, chicken noodle soup)
—Canned proteins in water (tuna, salmon, chicken)
—Peanut or other seed butters (crunchy and smooth)
—Canned foods with pop-top lids
—Hot/cold cereals
—100% fruit juices in single serving boxes
—Canned fruit
—Granola bars or light popcorn
—Unsalted peanuts, other nuts, or mixed nuts
—Apple sauce
Personal care items:
—Toothpaste and toothbrushes (individually wrapped)
—Soap or body wash
—Deodorant
—Feminine hygiene items
—Paper towels, napkins, tissues
—Laundry detergent pods, fabric softeners
School supplies:
—Spiral notebooks
—Loose-leaf paper
—Graphing paper
—Pens, pencils, highlighters
—Folders, binders
—Subject dividers
—Index cards
—Planners
—Backpacks
—Post-it Notes
—Hole punch
—Stapler, staples
—Tape
—Pencil pouch
—Graphing calculator
For more information, contact Lindsey Shelton, the MSU Graduate School's manager of admissions and enrollment management, at 662-325-9516 or lshelton@grad.msstate.edu.
Learn more about MSU's Graduate School at www.grad.msstate.edu.
MSU is Mississippi's leading university, available online at www.msstate.edu.