Contact: Landon Gibson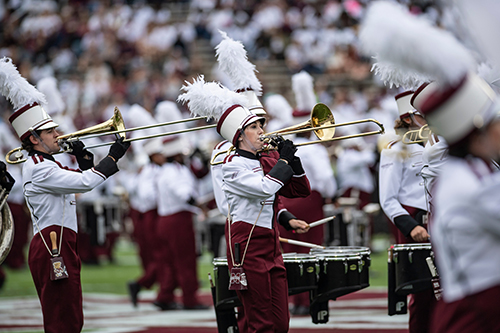 STARKVILLE, Miss.—Mississippi State's 119-year-old Famous Maroon Band is hosting auditions for prospective members.
Auditions are open to high school seniors or community college transfer band students and are scheduled exclusively by appointment. In-person auditions are offered on weekdays throughout the spring semester along with a few weekend dates. Although safe physical distancing will be practiced, the process is subject to change depending on COVID-19 protocols. To sign up, contact the band office at (662) 325-2713.
"We are always excited to host prospective students on our campus, and this in-person audition gives us time to visit with the students, answer their questions and help them learn more about our program," said Director of Bands Elva Kaye Lance.
"Being a part of the Famous Maroon Band has provided so many amazing experiences, once-in-a-lifetime opportunities and memories that I'll have forever," said senior band member Olivia Grace Ausbon, an interior design major from Amory. "Please take this opportunity to join our big, fun and loud family—you won't regret it."
In addition to weekday appointments, audition dates include:
—Friday, Jan. 29
—Friday, Feb. 5
—Saturday, Feb. 13
—Saturday, March 13
2021 drumline auditions will be held virtually with an April 30 deadline to submit materials. To download the drumline packet, visit https://www.msuband.msstate.edu/news/2021/01/2021-msu-drumline-auditions. Auxiliary auditions will be held in April with details to be announced at www.msuband.msstate.edu.
MSU is Mississippi's leading university, available online at www.msstate.edu.