Contact: John Burrow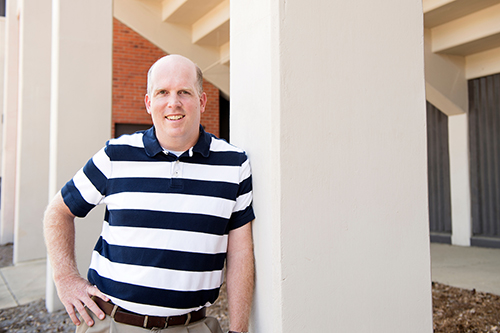 STARKVILLE, Miss.—Mississippi State's Institute for the Humanities kicks off its spring 2021 lecture series in early February with a virtual event spotlighting sports humanities.
The Institute's spring focus—"What are the Humanities Anyway?"—begins Feb. 4 with an event featuring MSU's Greggory J. Twietmeyer, associate professor in MSU's Department of Kinesiology, and Scott Kretchmar, professor emeritus of the Department of Kinesiology at Pennsylvania State University.
Twietmeyer and Kretchmar will host a conversation titled "What are the Sports Humanities Anyway?"
To be streamed on the institute's Facebook page, the 3:30 p.m. event is free and open to the public.
"Sports brings up huge issues that we should question and debate," said Julia Osman, institute director and associate professor of history.
"I first learned about the sports humanities while serving on a doctoral committee for a kinesiology student," said Osman, noting the conversation included sports ethics and the history of rules and parameters of games. She hopes this event shows that kinesiology "goes far beyond questions of 'how to play the game.'"
Twietmeyer said the intersection of the humanities and sports is deep, and "sports, physical activity, play, games, dance and exercise are each deeply embedded in human culture."
"Sports are a set of human conventions, traditions and institutions. As such, every place they are found, they are laden with meaning, such as spiritual, ideological and cultural content," said Twietmeyer.
"Sports regularly exhibit and lay bare both humanity's potential for greatness—beauty, grace, self-sacrifice, tenacity, etc.—as well as our follies and sins—jealousy, betrayal, hatred, cheating, hubris, etc. 'Sport' is a ubiquitous aspect of human culture, and therefore deserves serious attention from humanists," he explained.
Twietmeyer earned his bachelor's degree from Michigan's Concordia University Ann Arbor and his master's degree in sport management from the University of Michigan. He earned his Ph.D. at Penn State, where Kretchmar served as his advisor.
Kretchmar's research focuses on the evolution of play and its role in human development. "Games are artificial and functional in many of the same ways that language is," Kretchmar said. "There was a time when our ancestors were without either one, without grammatical languages…and without formal games. Thus, a question presents itself. What intellectual capabilities allowed our ancestors to invent and use these two important elements of culture? How did our ancestors' invention of games, in particular, improve their fitness in a Darwinian sense?"
Kretchmar hopes the audience learns that "discussion about sport, exercise, health and competition will be incomplete without contributions from history, philosophy, literature and other research domains in the humanities."
As part of MSU's College of Arts and Sciences, the Institute for the Humanities promotes research, scholarship and creative performances in the humanistic disciplines and raises their visibility, both within Mississippi State University and the wider community. The institute is active on social media on Instagram @msstatehumanities, Twitter @Humanities_MSU and Facebook @msu.humanities.institute.
MSU's College of Arts and Sciences includes more than 5,200 students, 323 full-time faculty members, nine doctoral programs, 14 masters programs, and 27 undergraduate academic majors offered in 14 departments. It also is home to the most diverse units for research and scholarly activities, including natural and physical sciences, social and behavioral sciences, and the humanities. For more about the College of Arts and Sciences or the Institute for the Humanities visit www.cas.msstate.edu or www.ih.msstate.edu.
MSU is Mississippi's leading university, available online at www.msstate.edu.