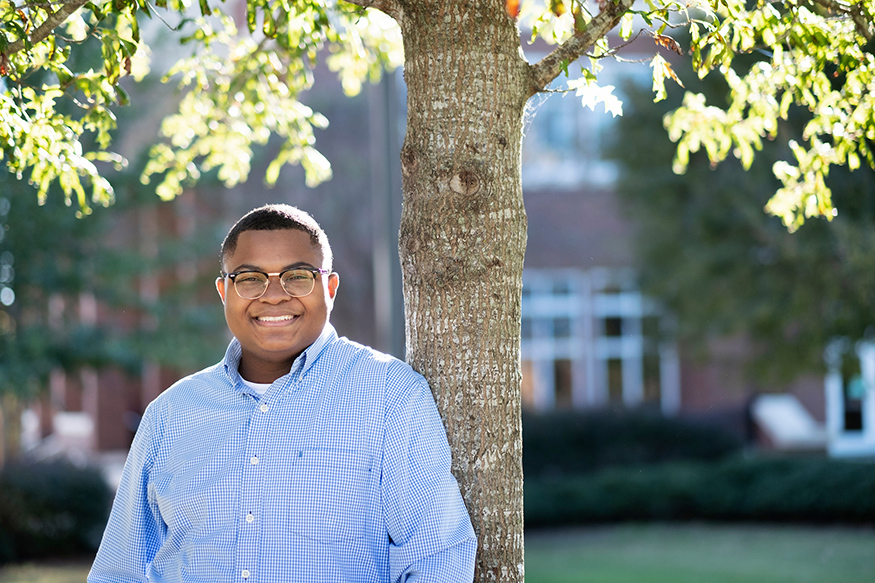 Contact: Sasha Steinberg
STARKVILLE, Miss.—A first-generation college student in Mississippi State's Judy and Bobby Shackouls Honors College is receiving a prestigious Public Policy and International Affairs Junior Summer Institute Fellowship to Princeton University.
Christopher B. Robinson, a biological engineering major from Brookhaven, is the sixth MSU honors student in seven years to receive the national PPIA Junior Fellowship and will be the fourth to participate at Princeton.
The biological engineering major is housed jointly in MSU's Bagley College of Engineering and the College of Agriculture and Life Sciences.
If travel is deemed safe, Robinson will spend the summer at the Princeton School of Public and International Affairs in a cohort of fellows selected from universities across the U.S. Since 1985, Princeton has hosted a Junior Summer Institute to prepare students from diverse backgrounds for graduate study and careers in public policy. For more, visit https://ppiaprogram.org/undergrad-jsi-princeton.
A recipient of MSU's Lila and Hunter Henry Presidential Endowed Scholarship, Robinson said he learned about the PPIA fellowship through Presidential Scholarship Mentor Don Shaffer. He described Shaffer, an associate professor of English, as "one of the strong mentor figures in my life."
"We have meetings each semester, and Dr. Shaffer mentions opportunities that he thinks would be helpful. He knew I was interested in policy and told me that I should really look into the PPIA, so I went for it," Robinson said. "Of the different schools I could pick from, Princeton was my top choice because its program focusing on socioeconomics and policy analysis interested me the most."
Robinson, who serves as a senator for MSU's Student Association, said he is confident the PPIA program will enable him to explore his interests in medicine and politics, two fields he hopes to one day combine into a fulfilling professional career. In addition to earning a medical degree and working in the medical field, Robinson wants to "make change" by contributing to the health care policy discussion and possibly running for an elected office.
"I like to stay open to new things and am always looking for ways to learn," he said. "One of the things that led me to Mississippi State was that the faculty are so student-focused. As an MSU Roadrunner, I talk a lot about the family atmosphere here, and it has shown itself so many times in my interactions with mentors like Drs. Shaffer and Simpson."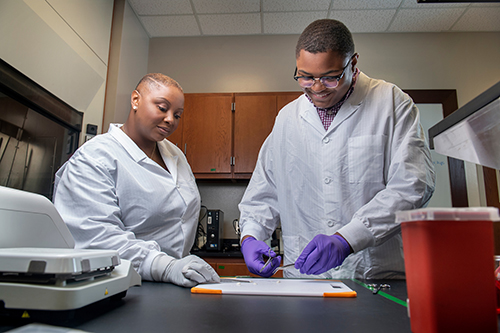 Since last fall, Robinson has been conducting cardiovascular research with MSU Associate Professor LaShan Simpson. Along with teaching in MSU's Department of Agricultural and Biological Engineering, Simpson serves as an advisor for the university's Biomedical Engineering Association in which Robinson is serving this year as vice president. Simpson also coordinates diversity initiatives for the honors college.
"Dr. Simpson has been nothing but a delight," he said. "She is so welcoming, and her support has inspired me to try different things like the PPIA."
David Hoffman, interim director of the honors college's Office of Prestigious External Scholarships, guided Robinson throughout the PPIA application process. He said Robinson will be a "trailblazer" in the lives of people most impacted by health inequalities and those who create, develop and implement policies that shape these outcomes.
"Christopher has his eyes set on some day serving as a White House Fellow and in a leadership position within the Department of Health and Human Services," said Hoffman, who also serves as an associate professor in the College of Arts and Sciences' Department of Anthropology and Middle Eastern Cultures. "I am confident Christopher will do everything in his power to achieve these goals to serve and lead the nation just like he has at Mississippi State."
Learn more about MSU's Shackouls Honors College at www.honors.msstate.edu; Bagley College of Engineering at www.bagley.msstate.edu; College of Agriculture and Life Sciences, www.cals.msstate.edu.
MSU is Mississippi's leading university, available online at www.msstate.edu.