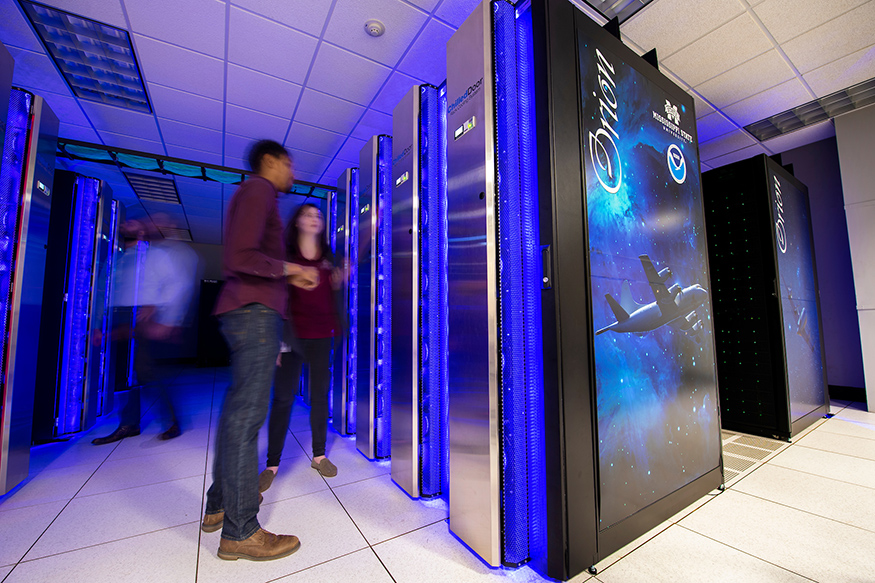 Contact: James Carskadon
STARKVILLE, Miss.—The latest survey from the National Science Foundation again affirms Mississippi State's status as the state's leading research university.
Among all institutions in the NSF's just-released Higher Education Research and Development Survey, MSU moved up the rankings to No. 92 nationally with more than $264.5 million in research and development expenditures for fiscal year 2019, an increase of $20 million from the previous year. An NSF top 100 research university for nearly two decades, MSU boasts 30 disciplines and subdisciplines ranked in the top 100 in the latest report. The university has reported an increase in research and development expenditures for six consecutive years, capping a decade that saw MSU report $2.3 billion in research expenditures from FY10-FY19.
"It is exciting to see continued growth in our research funding, especially in an increasingly competitive environment," said MSU President Mark E. Keenum. "Our world-class faculty and staff are advancing their fields, moving our state forward and providing opportunities for students to participate in cutting-edge research. Our dynamic R&D capabilities are an economic development asset for Mississippi as we work to develop, attract and support industries in key sectors of our state's economy such as agriculture, manufacturing and aerospace. I'm very proud of the significant impact that our more than a quarter of a billion dollars in expenditures has in our state, nation and world."
MSU ranks 57th among institutions without a medical school, and 62nd among all public universities. MSU also holds the "Very High Research Activity" designation from the Carnegie Foundation, as well as the "Innovation and Economic Prosperity University" designation from the Association of Public and Land-grant Universities, recognizing MSU's work to advance engagement and economic well-being.
With a diverse research portfolio, MSU ranks in the top 15 nationally in both agricultural sciences (12) and social sciences (15). For the eighth consecutive year, MSU leads all Southeastern Conference universities in social sciences research funding. MSU leads the state with 4,044 research personnel, including 605 principal investigators.
Mississippi State's research funding comes from a wide range of sources, including business and industry, trade groups, local governments, state offices and federal agencies, including the U.S. Department of Agriculture, National Institutes of Health, Federal Aviation Administration, National Oceanic and Atmospheric Administration, NASA, National Science Foundation and the U.S. Department of Defense, among others.
"As we maintain our historical strengths in agriculture and engineering, I am continuously impressed by the research excellence displayed in every discipline at MSU, which this survey further affirms," said MSU Vice President for Research and Economic Development Julie Jordan. "International, federal and state agencies, as well as private industries, look to our researchers to solve key problems for society and drive innovation. Their trust in us is a testament to the outstanding work being done every day by our faculty and staff on campus and across the state."
MSU reported $109.9 million in agricultural and natural resources research funding for FY19, extending support for Mississippi's $7.35 billion agriculture industry and leading multiple research and outreach initiatives aimed at strengthening global food security. Building on more than 140 years of agricultural research accomplishments, the university remains at the forefront of the field as researchers harness the power of cutting-edge technology such as supercomputers and unmanned aircraft systems to drive innovation in Mississippi's leading industry.
Categories in which MSU ranked in the top 100 of the NSF survey include the following disciplines and subdisciplines:
Computer and Information Sciences: 84
Engineering: 57

Aerospace, Aeronautical and Astronautical Engineering: 25
Chemical Engineering: 75
Civil Engineering: 67
Electrical, Electronic and Communications Engineering: 78
Industrial and Manufacturing Engineering: 21
Mechanical Engineering: 23
Metallurgical and Materials Engineering: 65
Other Engineering: 51

Geosciences, Atmospheric Sciences and Ocean Sciences: 65

Atmospheric Science and Meteorology: 50
Geological and Earth Sciences: 40
Ocean Sciences and Marine Sciences: 67

Life Sciences: 99

Agriculture and Natural Resources: 12

Subfield- Agriculture Sciences: 12
Subfield- Natural Resources and Conservation: 17

Physical Sciences

Chemistry: 90
Material Science: 56
Physics: 96

Social Sciences: 15

Economics: 71
Political Science: 92
Sociology: 12
Other Social Sciences: 8

Non-Science and Engineering Fields

Communication and Communications Technologies: 86
Humanities: 77
Visual and Performing Arts: 73
Other Non-Science and Engineering: 94
MSU researchers are working with students on worldwide challenges such as food security, solutions to human diseases, social and economic disparity, and cybersecurity. The university is home to centers and institutes that are leaders in areas such as aerospace engineering, automotive engineering, unmanned aircraft systems, agriculture, data analytics, and social sciences, among other areas. For more, visit www.research.msstate.edu.
MSU is Mississippi's leading university, available online at www.msstate.edu.