Contact: Addie Mayfield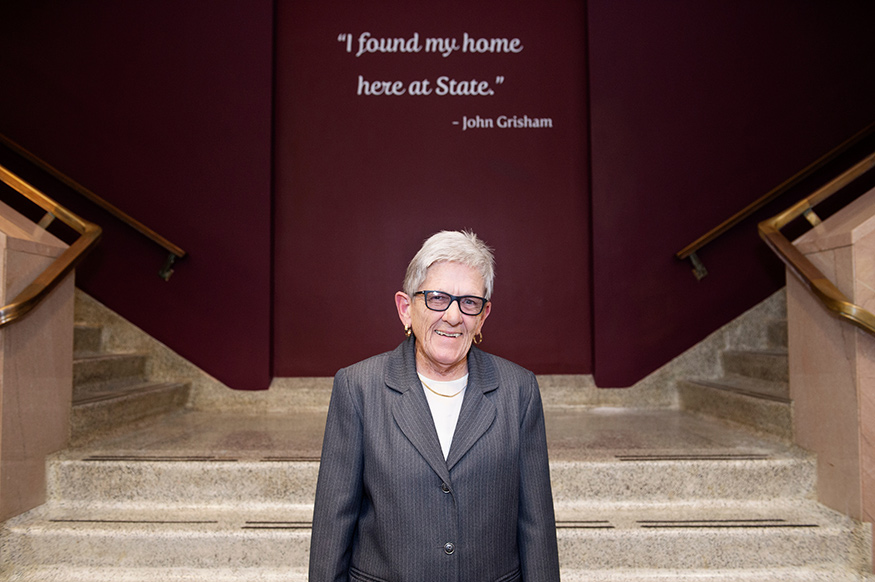 STARKVILLE, Miss.—Mississippi State University is honoring Janice I. Nicholson of Florence, Alabama, as its 2021 National Alumna, the university's highest alumni honor.
At the national awards event on May 13, 2021, Nicholson will become the first female to receive the university's highest alumni honor as a host of other outstanding alumni are recognized by the MSU Alumni Association.
Nicholson received her master's and doctoral degrees in elementary education from MSU in 1967 and 1977, respectively. She also holds an education specialist degree from Vanderbilt University's Peabody College of Education. 
Over a 50-year career, she was with the University of North Alabama for 37 years in teaching and administration. She retired from Blue Mountain College, where she earned an undergraduate degree, as executive vice president for Student Affairs and Graduate and Special Programs in 2012.
At MSU, Nicholson earlier was recognized as the College of Education's Alumnus of the Year in 2018. From 2015-2017, the Booneville native also served as interim head of the MSU Department of Curriculum, Instruction and Special Education.
Individual academic college selections for alumni of the year for 2021 include (by city of residence):
BYRAM—Robert L. Barnes Jr., College of Arts and Sciences. A 1972 sociology graduate, Barnes is a retired logistics and human resources executive and retired colonel of the U.S. Army.
GROVE HILL, Alabama—Russell W. "Rusty" Booker Jr., College of Forest Resources. The 1991 forestry graduate is president of Scotch Land Management LLC.
GAINESVILLE, Florida—Ruth Francis-Floyd, College of Veterinary Medicine. The 1985 veterinary medicine graduate is a professor and extension specialist for aquatic medicine at the University of Florida.
HOUSTON, Texas—Joffrey R. "Jay" Pryor, James Worth Bagley College of Engineering. A 1979 petroleum engineering graduate, he is vice president for business development for Chevron Corporation.
KILDEER, Illinois—J. Michael "Mike" McIlwain, College of Business. The 1987 accounting graduate recently retired as president and CEO from PSAV, a global event technology company.
LOUISVILLE—Margaret Dodd Taylor, College of Education. The former special education teacher is a three-time MSU graduate, earning bachelor's, master's and education specialist degrees in 1982, 1983 and 1985, respectively.
NEW YORK CITY, New York—Daria F. Pizzetta, College of Architecture, Art and Design. A 1983 architecture graduate, she is a principal at the architecture firm, H3, the cultural design studio of Arquitectonica.
RIDGELAND—John R. Lundy, College of Agriculture and Life Sciences. Partner for Capitol Resources, LLC, he is a 1983 agricultural economics graduate.
The association also annually salutes the university's Outstanding Young Alumnus or Alumna. Receiving this honor is Paul M. Minor of Houston, Texas. Senior energy management consultant at The Carnrite Group, he earned a bachelor's degree in geology from MSU in 2011.  
Additionally, three alumni will be presented awards for their distinguished service to the MSU Alumni Association in 2020. They are Walter J. "Walt" Brown of Natchez, Adams County court judge who holds a 1986 Bachelor of Arts degree in history; Cameron "Cammie" Bullock of Gulfport, an administrative assistant at NAI Sawyer Commercial Real Estate and 2003 business administration and marketing graduate; and Lisa Sharp Newcomb of Batesville, owner of South Panola Veterinary Hospital and 1984 Doctor of Veterinary Medicine graduate.
More details on the awards ceremony and honorees will be available in the coming weeks. For more on the association, visit alumni.msstate.edu.
MSU is Mississippi's leading university, available online at www.msstate.edu.