Contact: Landon Gibson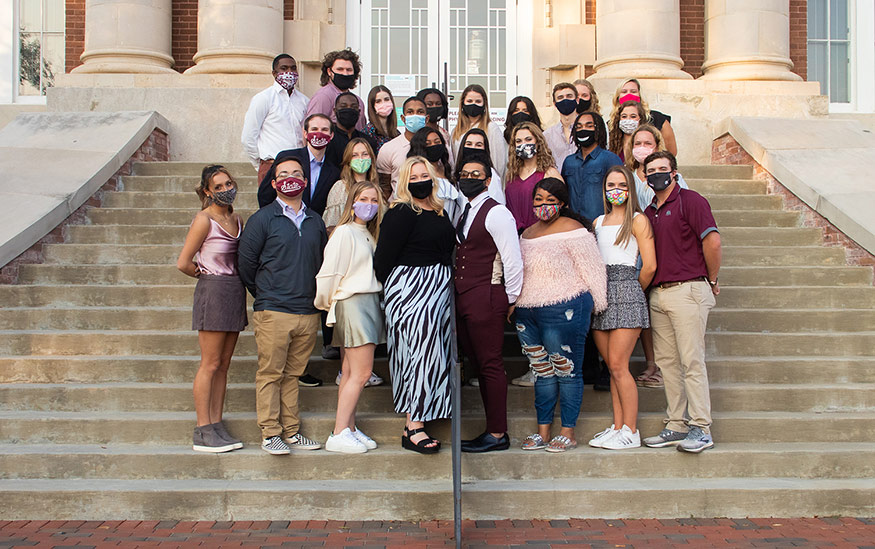 STARKVILLE, Miss.—Twenty-seven students from Mississippi, Alabama, Georgia, Texas, Virginia, Louisiana and Tennessee are leaders of Mississippi State University's orientation programs this year.
Coordinating with the Office of Orientation and Events, MSU Orientation Leaders guide prospective students on visits and tours, while also sharing knowledge of the 142-year-old land-grant institution with incoming freshmen, transfer students and their families during the university's many registration and information sessions.
Selected from dozens of applicants, this year's Orientation Leaders underwent a competitive selection process, including a concentrated course preparing them to welcome the newest members of the Bulldog family to campus.
This year's group includes (by hometown):
BAYTOWN, Texas—Gabriella Ybarra, a sophomore special education major.
CANTON—Kabriana "K.B." Kirk, a senior business administration major.
CLINTON—Emily Hammons, a sophomore undeclared architecture major.
CORINTH—Kelsey Fulghum, a senior communication major.
COVINGTON, Tennessee—Robeson "Rob" Hendren, a sophomore business administration major.
FAYETTE—Justin Applin, a senior kinesiology major.
GERMANTOWN, Tennessee—Kirby Betchick, a junior elementary education major.
GREENVILLE—Daniel Benavides, a sophomore secondary education major.
GRENADA—Sara Murphy, a sophomore fashion merchandising major.
HATTIESBURG—Alden Parsons, a sophomore educational psychology major.
HELENA, Alabama—Joshua "Parker" Cunningham, a senior marketing major; and Lauren "Lola" Decroes, a sophomore business information systems major.
HOUMA, Louisiana—Allison "Ally" Galinsky, a junior secondary education major.
HUNTSVILLE, Alabama—Natalie Fields, a junior culinology major; and Cole Strankman, a sophomore business management major.
JACKSON—Chidi Agusiegbe, a senior mechanical engineering major; Elly Lamb, a junior communication major; and Beth Ann Young, a senior human development and family science major.
KENNESAW, Georgia—Davis Akins, a sophomore kinesiology major.
MEMPHIS, Tennessee—Devon Lyles, a sophomore business administration and psychology double major.
MURFREESBORO, Tennessee—Mary Martha Willson, a sophomore communication and political science double major.
RICHMOND, Virginia—Malone McGhee, a sophomore food science, nutrition and health promotion major.
SCOOBA—Jashawn Fuller, a junior kinesiology major.
SOMERVILLE, Tennessee—Christopher "Chris" Kee, a junior kinesiology major.
STARKVILLE—Charles "Garner" Montgomery, a junior communication major.
STONE MOUNTAIN, Georgia—Maya Reaves, a junior kinesiology major.
VESTAVIA HILLS, Alabama—Sophie Sabri, a junior sports administration and pre-law major.
For more on MSU's Office of Orientation and Events, visit www.admissions.msstate.edu/admitted/orientation.
MSU is Mississippi's leading university, available online at www.msstate.edu.