Contact: John Burrow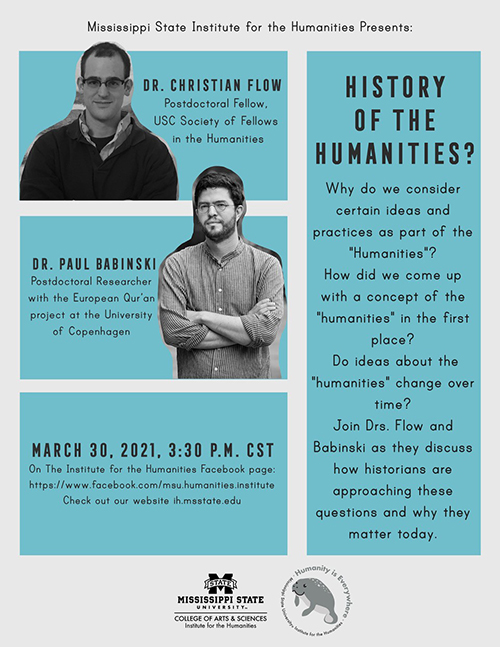 STARKVILLE, Miss.—A virtual event next week led by researchers specializing in the humanities spotlights the origin of this complex academic discipline as part of the College of Arts and Sciences Institute for the Humanities continuing series, "What are the Humanities?"
The event features Paul Babinski, a Ph.D. candidate at Princeton University currently working with the European Qur'an Project at the University of Copenhagen, and Christian Flow, a 2019 Ph.D. graduate from Princeton University and current post-doctoral fellow with the University of Southern California Society of Fellows in the Humanities. Their discussion will explore where the humanities originated, how and why certain subjects are considered part of the field, and how ideas on the subject have evolved throughout history.
Streamed live on Tuesday [March 30] at 3:30 p.m. on the Institute for the Humanities' Facebook page, https://www.facebook.com/msu.humanities.institute, the event—"History of the Humanities"—is free and open to the public.
Julia Osman, institute director and MSU associate professor of history, said that by exploring history, the "rich, vibrant and ever-changing nature of the humanities" will be highlighted.
"Babinski and Flow are historians of the early modern period through the 19th century who look at how elements of the field of the 'humanities' have been shaped over time," Osman said.
"Questions such as 'what can we understand by interrogating those disciplines on their own terms' are worth considering. Babinski and Flow both are part of a new historiography that looks at the 'history of the humanities' the same way scholars look at the 'history of science,'" Osman said. 
As part of MSU's College of Arts and Sciences, the Institute for the Humanities promotes research, scholarship and creative performances in the humanistic disciplines and raises their visibility, both within Mississippi State University and the wider community. The Institute is active on social media on Instagram @msststehumanities, Twitter @Humanities_MSU and Facebook @msu.humanities.institute.
For more about the College of Arts and Sciences or the Institute for the Humanities visit www.cas.msstate.edu or www.ih.msstate.edu.
MSU is Mississippi's leading university, available online at www.msstate.edu.