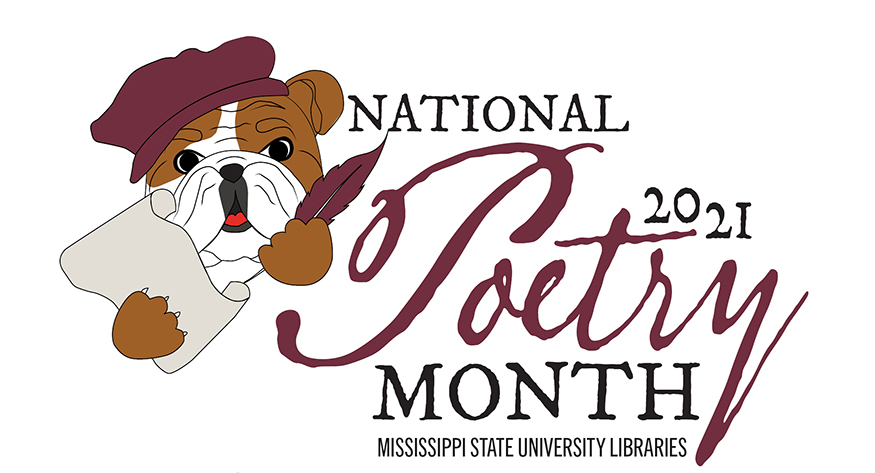 Contact: Sasha Steinberg
STARKVILLE, Miss.—Mississippi State University Libraries are hosting various activities throughout April in celebration of National Poetry Month.
Starting April 1, students, faculty, staff and community members are encouraged to visit https://guides.library.msstate.edu/nationalpoetrymonth and view a fun, 15-minute presentation on Homer's ancient Greek epic poem "The Odyssey."
Salvador Bartera, an associate professor in MSU's Department of Classical and Modern Languages and Literatures, prepared the lecture using the latest technology at Mitchell Memorial Library's MaxxSouth Digital Media Center. To view his lecture, visit the aforementioned website, hover over the "How to Celebrate Poetry at MSU" tab and click on "Celebrate Poetry by Learning about Homer and The Odyssey." 
MSU Libraries also will provide a link to MSU's movie database Swank, where MSU faculty, staff and students can log in to view "O Brother, Where Art Thou?" at their leisure. The 2000 film by Joel and Ethan Coen is loosely based on "The Odyssey."
On April 1 at 11:59 p.m., entry submission will conclude for the Undergraduate Poetry Contest. Staff from MSU Libraries and MSU's student-made creative arts journal The Streetcar, along with graduate students from the Department of English, will select the winning poems. Winners will be announced on April 15, and prizes will be awarded.
Throughout the month, posters highlighting Mississippi poets and poetry will be on display at Mitchell Memorial Library. MSU Libraries also will accept recommendations from faculty and staff across campus for poems to share on social media. Poem suggestions should be submitted by March 30 to Corinne Kennedy, MSU Libraries assistant professor, at ckennedy@library.msstate.edu.
Associate Dean Stephen Cunetto said MSU Libraries is looking forward to hosting "Bully's Bards," a monthlong exhibit showcasing poetic contributions of MSU faculty and alumni.
"These poems highlight the personal experiences, ruminations and feelings of members of our Bulldog family and provide important cultural context to the world in which we live," Cunetto said. "Our MSU Libraries staff hopes these poems inspire and encourage everyone to celebrate poetry in April and throughout the year."
In addition to showing in the Special Collections Department on Mitchell Memorial Library's third floor, "Bully's Bards" can be viewed at http://msstate-exhibits.libraryhost.com/exhibits/show/bully-s-bards. For assistance or questions, contact Carrie P. Mastley, manuscripts librarian, at cpmastley@library.msstate.edu.
For more on MSU's National Poetry Month celebration, visit https://guides.library.msstate.edu/nationalpoetrymonth.
MSU is Mississippi's leading university, available online at www.msstate.edu.