Contact: John Burrow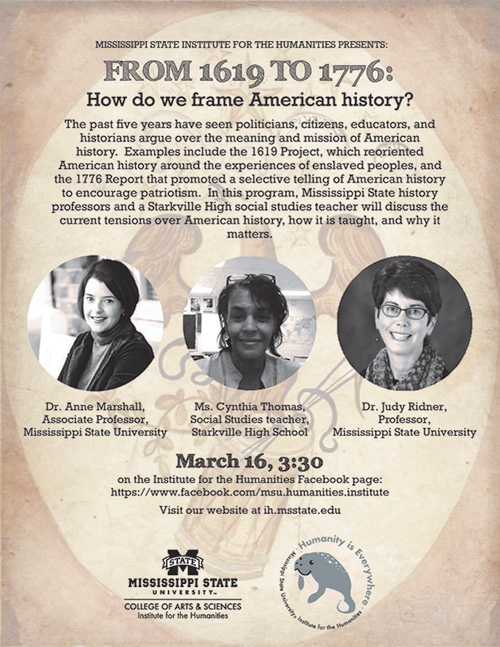 STARKVILLE, Miss.—The meaning and mission of American history is the focus of a Mississippi State event next week when campus and local experts will share educational perspectives on a current national debate.
The MSU Institute for the Humanities virtual event "From 1619 to 1776: How do we frame American history?" on Tuesday, March 16, at 3:30 p.m., will be streamed from the institute's Facebook page at https://www.facebook.com/msu.humanities.institute. For more information, visit www.ih.msstate.edu.
MSU faculty Anne Marshall, associate professor of history, and Judy Ridner, professor of history, are joined by Starkville High School history teacher Cynthia Thomas, to discuss how American history is taught, current tensions about American history, and why it matters.
Julia Osman, director of the Institute for the Humanities and an associate professor of history, said she "cannot help but notice how contested American history is in the political sphere."
"What does this mean as to how I teach history and how it is taught in K-12? History is so important because it is directly linked to our identities, how we view our country, and the direction our country goes from here. It matters to non-historians how we frame American history in the classroom amongst historians as well as in public places."
Notable recent debates in the headlines include arguments surrounding the 1619 Project and 1776 Report. The method and dissemination of this information on America's origin in public schools and universities has become the subject of intense conversation on a national level.
Osman said she is "thrilled" to have Thomas participate in the conversation because "much of the debate on history revolves around how to teach it in our K-12 schools."
For additional questions, contact Osman at humanities@msstate.edu.
The Institute for the Humanities in MSU's College of Arts and Sciences promotes research, scholarship and creative performances in the humanistic disciplines and raises their visibility, both within Mississippi State University and the wider community. The institute's activities include bringing prominent individuals in the humanities to the university campus; supporting faculty research initiatives; and engaging in public outreach through scholarship and innovative teaching. For more details about the College of Arts and Sciences or the Institute for the Humanities visit www.cas.msstate.edu or www.ih.msstate.edu.
MSU is Mississippi's leading university, available online at www.msstate.edu.