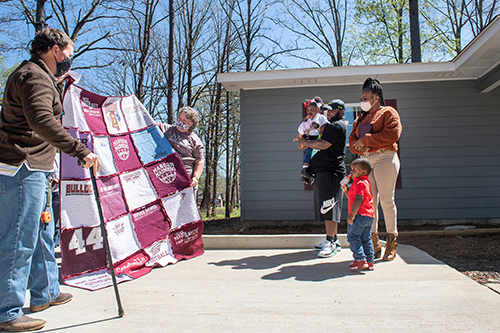 Contact: Sasha Steinberg
STARKVILLE, Miss.—Mississippi State University and Starkville Area Habitat for Humanity gave attendees of today's [March 29] 12th annual Maroon Edition home dedication ceremony many reasons to smile.
Located in Sunset subdivision, the home honoring Starkville native Matt Savage was built for Starkville residents Santana Turnipseed and Chadrick Robinson and their five children.
Savage is a graduate of the U.S. Military Academy at West Point who sustained severe injuries in a motorcycle accident. He retired from the Army at the rank of captain in April 2020 after seven years of service. His attorney Wayne Rogers of Birmingham, Alabama, made a contribution to Habitat for Humanity that was used to honor Savage through construction of the home, which is Habitat's 70th home in Oktibbeha County. A former partner of DeGaris and Rogers LLC law firm, Rogers now serves as executive assistant for the Jefferson County Sheriff's Office in Birmingham.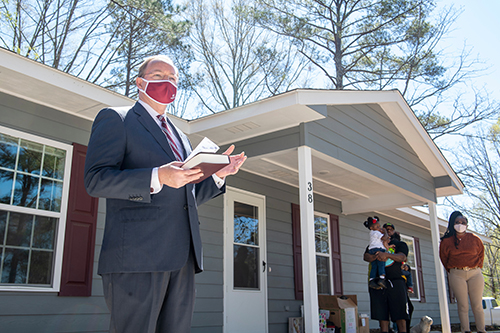 MSU President Mark E. Keenum congratulated homeowners Turnipseed and Robinson and presented them with a family Bible. He also thanked Savage for his service and allowing the university to honor him through "a home built with love for a deserving family."
"MSU is proud to partner with Habitat for Humanity on the 12th Maroon Edition home that demonstrates love and compassion for others. This home is a shining beacon of light," Keenum said.
Other remarks included:
—MSU Vice President for Student Affairs Regina Hyatt: "It is my hope that our students and the other volunteers who helped build this home will indeed be leading lifetimes of service, reconciliation and peace. For Santana and Chadrick, we hope this home will be a place of happiness, hope, contentment, generosity, creativity and kindness."
—Alexis "Lex" Wallace, assistant director of MSU's Office of Student Leadership and Community Engagement: "We want to say a huge thank you to the over 100 volunteers and students, faculty, staff and community members who worked on this house and to Habitat for Humanity for partnering with us. We hope Chadrick and Santana's family enjoy this home to the fullest."
—Starkville Area Habitat for Humanity President Cody Burnett: "We couldn't have done this without John Breazeale [Starkville Area Habitat for Humanity Construction Supervisor] and the volunteers who worked on the home construction. We want to thank the university we all love and Dr. Mark Keenum for assisting us in making this Maroon Edition home a successful collaborative effort. The reason that Chadrick and Santana get to walk through the doors of their new home is in part due to Mr. Matt Savage, so a special thank you to him as well."
With help from Savage, Starkville resident Dot Livingston presented the family with a homemade MSU T-shirt quilt. Rogers gave the family a homeowner welcome basket.
The Habitat home is part of the service-learning component of MSU's Maroon Edition First-Year Reading Experience, which provides incoming freshmen and transfer students with a free copy of a common book. Learn more at www.maroonedition.msstate.edu.
For more on Starkville Area Habitat for Humanity, visit www.starkvillehabitat.com.
MSU is Mississippi's leading university, available online at www.msstate.edu.