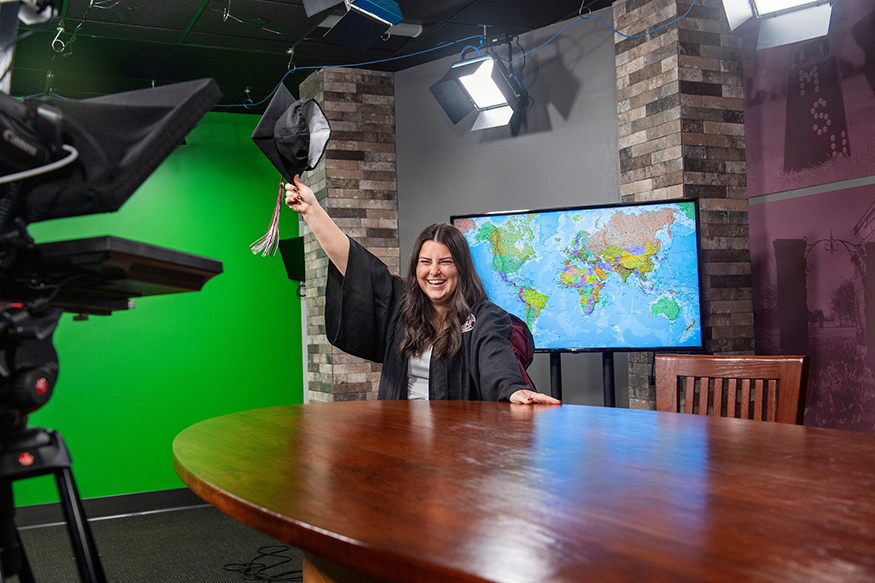 Contact: Landon Gibson
STARKVILLE,Miss.—She's lived in Michigan, South Korea and Abu Dhabi, but when Holly Emery's travels took her on her first college visits at the age of 14 she chose Mississippi State as her university.
On Thursday [April 29], Emery will cross the stage at Humphrey Coliseum to receive her diploma from MSU, where she said she has grown as a person and learned to connect with others and their stories as a communication major.
Emery credits her parents, both high school teachers, with getting her to this goal, and they're making a 24-hour trip to their daughter's graduation from their family home in Abu Dhabi in the United Arab Emirates.
 "Having them at my graduation is special," she said. "For them to spend a lot of money to get here and leave behind their high school students who are about to take final exams shows how much they value my education. I'm so appreciative to have a family that pushes me to be my best."
While Emery has no family connections to Mississippi State, she began at an early age traveling with her parents throughout the U.S. from Abu Dhabi on many college tours and visits so she could find her "ideal place" to achieve her degree.
"Most kids visit colleges when they're juniors," she said, "but most only have to drive a couple of hours from their high schools. For me, I tried to visit as many colleges as I could and realized that MSU was where I belonged."
The broadcast journalism student in MSU's Department of Communication said that she gained experience as a student worker after joining Hail State Productions, MSU Athletics' creative video service department. Her job became an "unpaid internship," allowing her to grow with the help of Bennie Ashford, senior associate athletic director and broadcast operations director.
"Mr. Ashford gave me opportunities to do what I liked and was super helpful. Operating cameras laid the groundwork that enabled me to get other internships, and I got to meet former MSU women's basketball legends," she said.
Emery also has participated in Take 30 News, a communication department student-produced newscast. A capstone class for all senior broadcasting majors, Emery was fortunate to join a year early as a junior to fill a sports anchor role.  In her senior year, she's gotten to explore other roles in the newsroom such as news anchor.
She's also been able to fulfill her favorite part of broadcasting—meeting new people—and especially recalls interviewing MSU Chief Communications Officer Sid Salter and local business owners in Starkville.
"I love the people that I get to meet through broadcasting," she said. "Mr. Salter was so interesting and spoke to me about campus history and other MSU-related topics that amazed me. I also met the owners of Magnolia Soap and Bath Company and learned how they survived during the pandemic. It's all about meeting people and learning through their stories."
Working as a resident assistant in Sessums and Dogwood residence halls and at Elm Lake Golf Course in Columbus are other places where Emery worked during her time at State.
Though she may not have a job lined up immediately following graduation, she's confident that her work at MSU has prepared her for many opportunities in the near future.
"Walking across that stage while having my parents in town completes my undergraduate journey. They've given me the best opportunity to further my education, and now, they get to finally reap what they have sown," Emery said.
MSU is Mississippi's leading university, available online at www.msstate.edu.