Contact: Addie Mayfield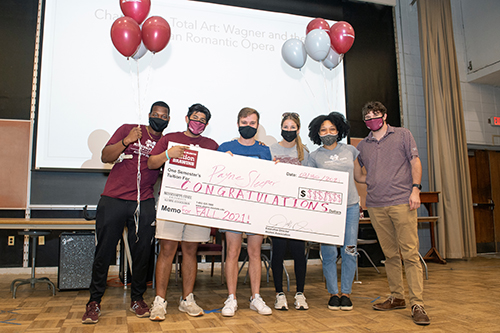 STARKVILLE, Miss.—Payne E. Sleeper of Corinth is the winner of the Mississippi State University Alumni Association's 15th tuition drawing.
A sophomore accounting major in the College of Business' Richard C. Adkerson School of Accountancy, Sleeper will receive free, full-time tuition (12 credit hours) for the 2021 MSU fall semester.
"College can be very expensive, and the mental weight of that financial burden can be a lot. With this scholarship, I can efficiently and enjoyably serve the university that I have grown to love so much," said Sleeper.
Initiated in 2013 by the association's student organization, Alumni Delegates, the drawing offers MSU students the opportunity to win one free semester of in-state tuition. The drawing is open each fall and spring semester to any in-state undergraduate enrolled fulltime at MSU. This semester, the Alumni Delegates raised over $12,000 from ticket sales.
Sleeper's winning ticket was drawn from 2,866 purchased by parents of eligible students at the beginning of the spring semester. His name was entered by his father Ronnie Sleeper, a 1990 MSU College of Business alumnus, and mother Natalie Cunningham Sleeper.
According to Jeff Davis, the alumni association's executive director, the program has become a proud tradition for the Alumni Delegates because it serves as a way for parents and students to be involved with MSU and simultaneously enhance the reach of the association.
"The Alumni Delegates tuition drawing is an exciting tradition to positively influence the student experience and help build support for scholarships," Davis said. "The impact of the drawing extends not only to the winner, but also to other students who benefit from the additional funds generated from the program that are invested into priority areas within our organization and across the university."
Founded in 1980, the Alumni Delegates is a diverse group of students who serve as liaisons between the 143-year-old institution and its more than 150,000 living graduates. Members assist with organizational programs and activities on behalf of the association, such as football tailgate gatherings, class reunions, and the association's annual awards banquet and leadership conference.
The MSU Alumni Association anticipates ticket sales this fall for the drawing of a spring 2022 winner. For more information about the tuition drawing, contact Jordan Ramsey, the association's associate director and Alumni Delegates advisor, at 662-325-7000 or jramsey@alumni.msstate.edu.
MSU is Mississippi's leading university, available online at www.msstate.edu.