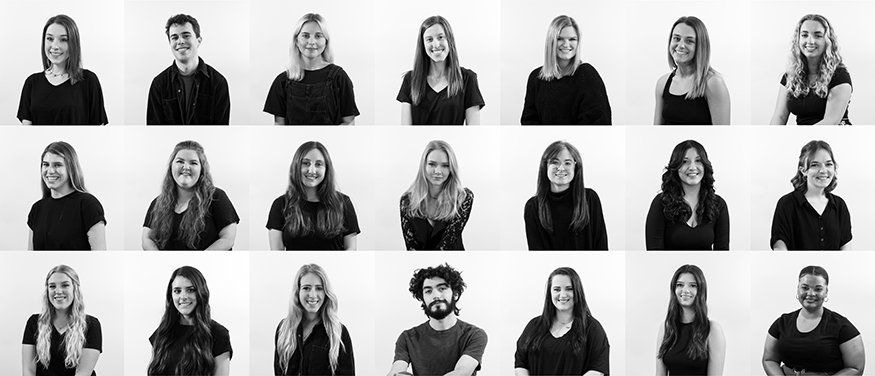 Contact: Sasha Steinberg
STARKVILLE, Miss.—Twenty-one senior art majors specializing in graphic design at Mississippi State are showcasing their work in a Bachelor of Fine Arts thesis exhibition, now available for viewing online.
Titled "Morphed," the gallery spotlights the seniors' completion of academic and studio work within MSU's Department of Art, the state's largest undergraduate studio art program. The students under the instruction of Assistant Professors Claire Gipson and Cassie Hester this semester are displaying their graphic creations online at www.morphed2021.com due to the COVID-19 pandemic. Updates on the exhibition are posted on Instagram @morphed2021.
Student exhibitor Jillian T. Lovato of San Antonio, Texas, said "Morphed" speaks to the gradual transformation the students experienced as designers throughout their years at MSU.
"What 'morphed' means to me is that while you stay true to yourself, you are still evolving and improving yourself. You don't let yourself stagnate for too long at any one point in your life," she said.
In addition to Lovato, other student exhibitors include (by hometown):
ALPHARETTA, Georgia—Madison E. "Maddie" Rosenbaum
BRANDON— Courtney E. Bates and Caitlyn T. Richardson
BROOKHAVEN—Amber E. McDonald
DALLAS, Texas—Kimberly J. "Kim" Kazmark
EDINBURG—Morgan L. Hollis
FLORENCE—Meghan A. Norman
FRANKLIN, Tennessee—Morgan E. Pearce
GREENWOOD—Anna Claire Garrard
JACKSON—Tommie Jo N. "TJ" Barnett
KEMP, Texas—Whitney N. Boerner
MADISON—Hannah G. Chapman
MUSCLE SHOALS, Alabama—James L. Baggett
NATCHEZ—Kellie T. Smith
OLIVE BRANCH—Neelly Plunk
RIDGELAND—Claire B. Crutcher
SALTILLO—Savannah M. Alley and Alexandra E. "Alex" Herring
SAN ANTONIO, Texas—Michael J. Rangel
TUPELO—Avery A. Batson
Learn more about MSU's College of Architecture, Art and Design and the Department of Art at www.caad.msstate.edu.
MSU is Mississippi's leading university, available online at www.msstate.edu.