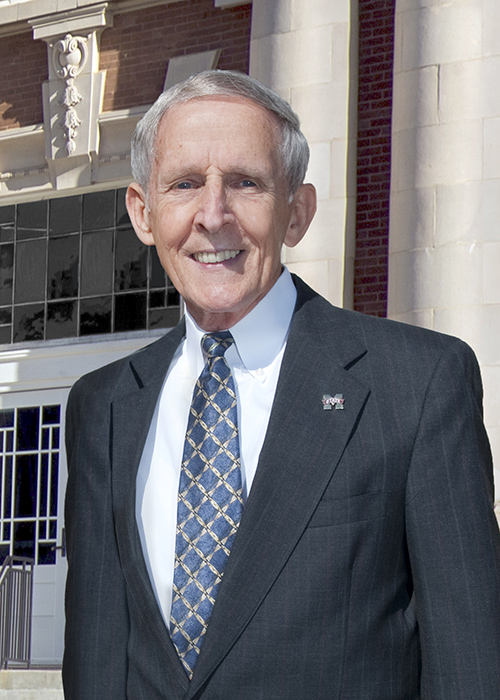 Longtime Mississippi State University Administrator Bill R. Foster died April 11, 2021, at the age of 88.
During his 39-year career with Mississippi State, Foster was fully invested in the success of MSU students. He helped grow the university's enrollment of about 2,800 when he first arrived in 1960 to a flourishing and well-respected institution among its SEC peers and beyond with more than 18,000 enrolled at the time of his retirement.
Foster, a Tremont native, began his MSU tenure in 1960 as coordinator of student activities and then director of housing, after an earlier career as a science instructor at Starkville High School. He was the first director of the Student Union, which opened on campus in 1966, and was instrumental in the start of the College of Education's master's degree in student affairs. He also was an adjunct associate professor of counselor education in that same college.
In 1972, Foster was promoted to dean of student services and, at the time of his retirement, held the appointment of associate vice president in the Division of Student Affairs, having worked closely with Robert L. Jones, MSU's first vice president for student affairs and then Roy Ruby, who followed Jones in that same university position. All three men, along with former Dean of Students Harold B. Hall, make up the inaugural class of MSU's Robert L. Jones Student Affairs Hall of Honor, which pays tribute to the groundbreaking work and strong leadership on which the division is built.
Foster said in a university publication after his 1999 retirement, "Looking back, I can honestly say that if I could do it over, I would not change a thing. Working with students, and particularly the kind of students we have at MSU, is most rewarding."
In 2008, the university honored Foster with the naming of the 9,200-square-foot assembly area in the newly renovated Colvard Student Union as the Bill R. Foster Ballroom.
An MSU alumnus, Foster earned bachelor's and master's degrees in mathematics and science education. His doctorate in higher education administration with an emphasis in student personnel services is from the University of Alabama. His wife Sara and daughter Kathy also are MSU graduates.
Visitation is Wednesday [April 14], 9-11 a.m. at First Baptist Church in Starkville, with the funeral service immediately following. Burial is in Memorial Garden Park Cemetery.
The family requests any memorials be made to the building fund at First Baptist Church, 106 E. Lampkin St., Starkville, MS 39759 or the Bill and Sara Foster Endowed Fund, c/o MSU Foundation, P.O. Box 6194, Mississippi State, MS 39762.