Contact: Harriet Laird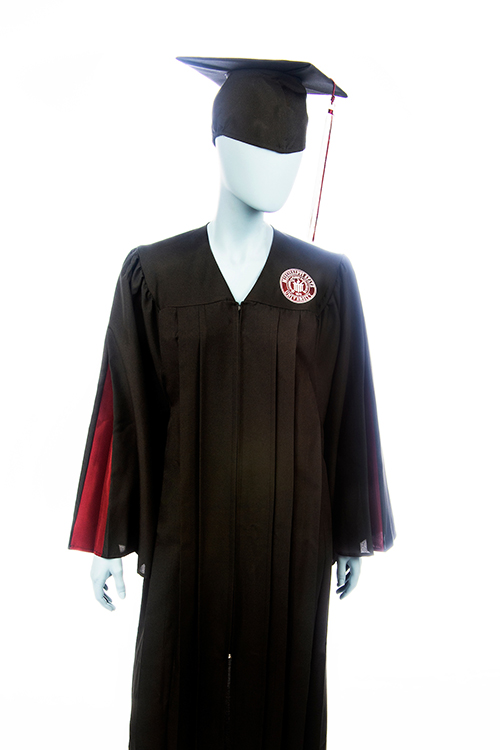 STARKVILLE, Miss.—Mississippi State graduates are taking their walk across the Humphrey Coliseum stage in two weeks with new style, donning the university's first custom regalia.
While solid black caps and gowns have been the standard, MSU's Office of the Registrar is adding the colors that distinguish all Bulldogs—maroon and white.
According to John Dickerson, university registrar and assistant vice president for enrollment, the process of sampling, comparing and approving the new regalia took almost a full year.
"We were eager to have handsomely designed regalia to contribute more to our sense of community and family here at MSU, and we wanted the attire to be motivation for students completing their degrees to participate in our ceremonies," Dickerson said. "This will be a special keepsake from their momentous occasion."
The new bachelor's degree gowns feature maroon and white university seals and inverted maroon pleats in each sleeve. On the master's degree gowns, there are maroon satin front panels with mirroring university seals, and the cap tassels for both degrees are in maroon and white.
Doctoral gowns reflect the master's degree ones and feature three maroon velvet chevrons on the sleeves. Hoods for these two gowns are designed with maroon and white velvet and include a colored satin lining specific to each graduate's degree emphasis. Doctoral tassels remain gold.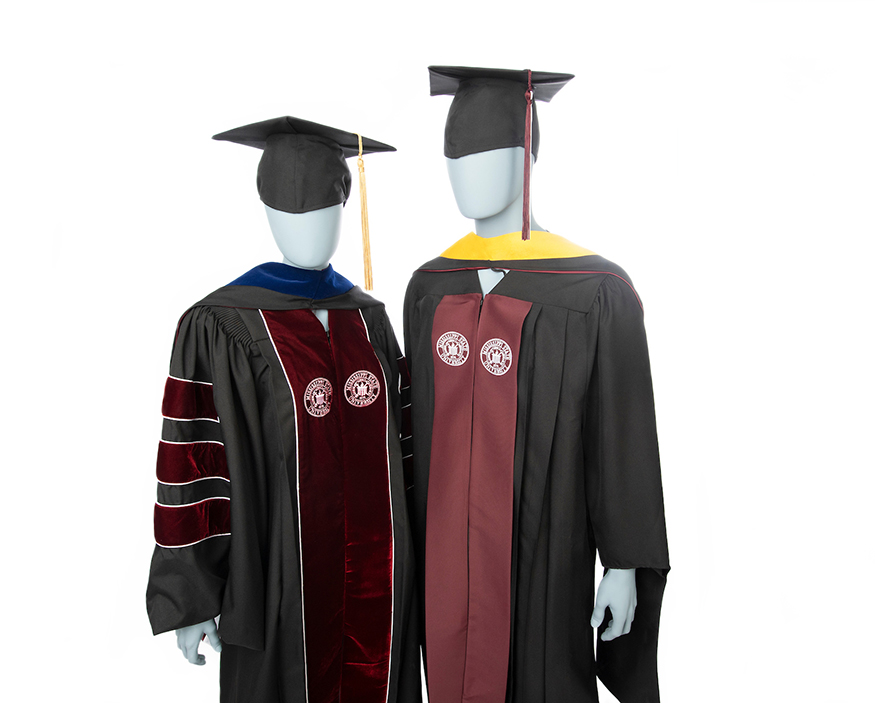 MSU Commencement Coordinator Nathan Griffey said, "All bachelor's and master's students can keep their entire regalia package, and doctoral students can keep the cap and tassel and are given the option to purchase the hood and/or gown."
The registrar's office worked with R.M. Hendrick Graduate Supply House in Jackson to design and source materials for the new regalia. To ensure the appropriate shade or the "true" maroon was used for the gowns, MSU officials were supplied with numerous color samples of velvet and satin textiles from domestic and international suppliers.
"We compared lots of materials for every piece of regalia before deciding on the perfect combination, and then Graduate Supply House worked with the manufacturer to ensure premium quality and clean stitching around the seals," explained Griffey, adding that Barnes & Noble at MSU also played an important role in distribution.
"We've received outstanding feedback from administration, faculty and students regarding the final products. It'll be exciting to see our graduates proudly wearing commencement regalia unique to Mississippi State," he said.
Complete graduation details are online at www.registrar.msstate.edu/students/graduation.
MSU is Mississippi's leading university, available online at www.msstate.edu.