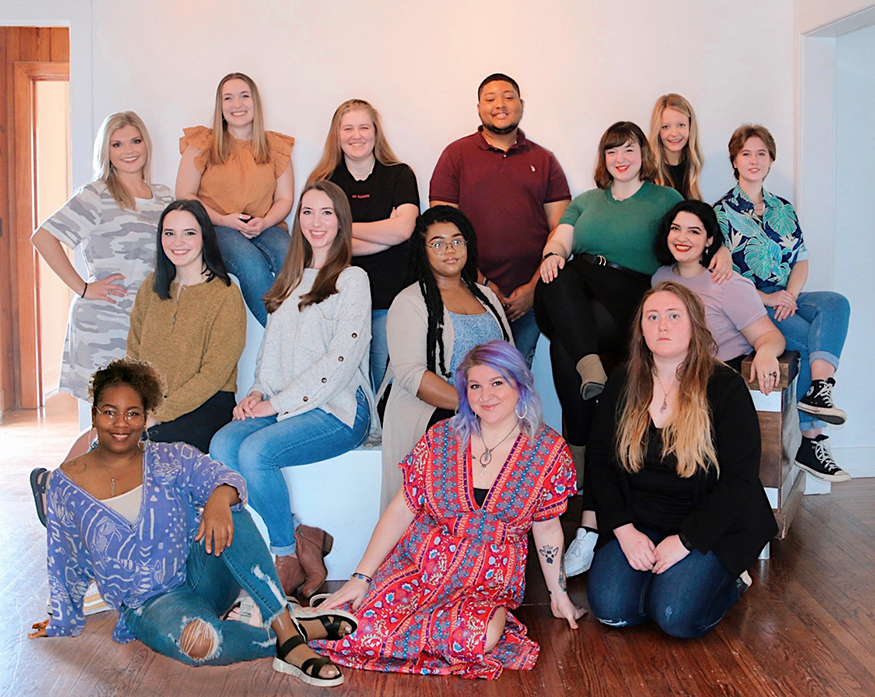 Contact: Sasha Steinberg
STARKVILLE, Miss.—Fourteen graduating seniors in Mississippi State's Department of Art are celebrating their upcoming graduation and passage into bright futures with an aptly named exhibition.
On display April 29-May 1, "Passage" gives viewers insight into the journeys of these talented young artists earning degrees from the state's largest undergraduate studio art program.
The students' work can be viewed in-person at MSU's Visual Arts Center Gallery and the art galleries at Cullis Wade Depot and Colvard Student Union. An online gallery will be available at www.caad.msstate.edu/exhibitions/2021/passage-bachelor-fine-arts-thesis-exhibition.
"Passage" student exhibitors include (by hometown):
BAY MINETTE, Alabama—Bobbye E. Jackson, who combines traditional craft techniques with drawing to create repetitive images.
BOGUE CHITTO—Emily R. Goss, whose thesis work explores politics and human rights activism events of 2020 and 2021.
BROOKHAVEN—Aarron D. Lunn, a ceramic artist whose body of work involves the manipulation of materials and captures moments in the making process.
CARLISLE, Arkansas—Madeleine P. Brown, a mixed media artist who uses acrylic and oil paints to create works influenced by her family's farm, agriculture and landscapes.
DALLAS, Texas—Hanna R. Bewley, whose thesis work titled "Left" features graphite and colored pencil drawings celebrating family relationships and the beauty of the natural world.
LONG BEACH—Grace A. Bennett, whose recent body of work explores intimacy, security and relationship through the bond she shares with her mother. 
MADISON—Elaina G. Hart, a painter whose works combine acrylic pouring and stenciling.
OLIVE BRANCH—Sarah G. Steen, an abstract mixed media artist whose work is inspired by biological forms and natural design.
RICHLAND—Mecca S. Givens, who uses charcoal to reimagine Kodak images from her childhood in a new context, connecting past and present. 
STURGIS—Emily A. Braa, whose gothic and art deco-style artwork often is inspired by the European places she has visited growing up in a military family.
TUPELO—Autumn Ferguson, who enjoys creating business logo designs, personalized paintings and photography; and Mary Morris Jackson, a sixth-generation artist whose work explores the details of humanity on a large scale through themes of contrast, identity and the body under stress.
WAVELAND—Savannah C. Bonds, an illustrator who explores grief and loss through digital memoirs as her mother's caregiver.
WEST POINT—Anna E. Terry, a ceramic artist whose work focuses on plants, flowers, mushrooms, bugs and other aspects of nature.
Learn more about MSU's College of Architecture, Art and Design and the Department of Art at www.caad.msstate.edu.
MSU is Mississippi's leading university, available online at www.msstate.edu.