Rosângela Yazbec Sebba, MSU professor of piano and Steinway Artist, will interview renowned musicians and educators David Dubal and Stanley Waldoff.
The interview is made possible through the MSU Department of Music's partnership with The Piano and Its Perspective Project - EMAC/UFG in Brazil and its digital office, Portugal Science and Technology Foundation, and the Center for the Study in Sociology and Music Aesthetics from Portugal New University.
Interview: Sunday, April 18, 3 p.m., YouTube | Watch here
Bios: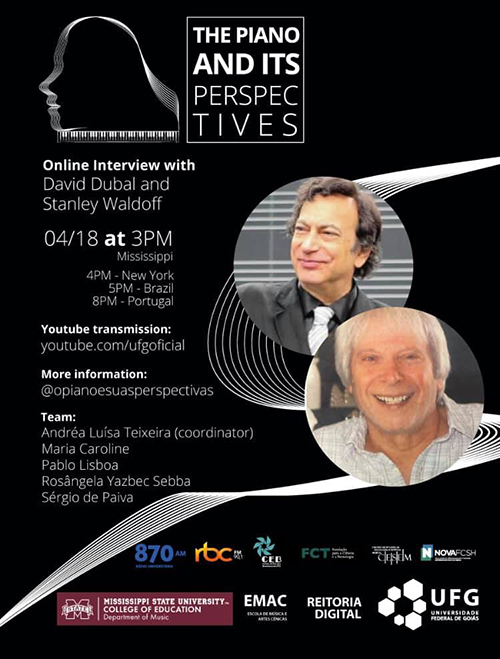 David Dubal has given piano recitals and masterclasses around the world, and has been adjudicator for prestigious international piano competitions. He taught at the Juilliard School from 1983 to 2018 and the Manhattan School of Music from 1994 to 2015. Dubal has recorded several CDs with pianist Stanley Waldoff, written several books, and wrote and presented the Emmy-winning documentary "The Golden Age of Piano."
Stanley Waldoff, a Steinway Artist, began his piano studies at age six, made his professional debut two years later, and won the coveted Stillman-Kelley Award at age 13. He attended the Juilliard School on a full scholarship, receiving his bachelor's and master's degrees. He earned his doctorate from Columbia University in 1970 and later was a resident pianist and associate director of the Rhode Island School in Providence. Waldoff retired as Professor Emeritus after teaching for 34 years at the University of Southern Mississippi.
For more information, contact Rosângela Yazbec Sebba at rys3@colled.msstate.edu.