Contact: Landon Gibson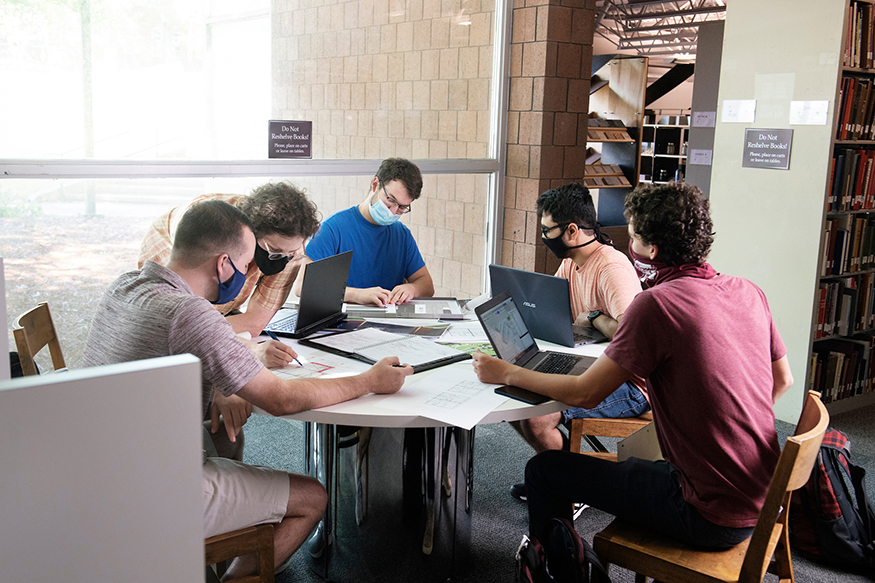 STARKVILLE, Miss.—At Mississippi State, new student groups are on the rise—none more electrifying than the College of Engineering's Energy Club, an organization that houses the interdisciplinary Solar Decathlon team.
Led by junior electrical engineering major Liam Nelson of Huntsville, Alabama, the Energy Club assembled in 2020, with an eye toward competing in the U.S. Department of Energy's Solar Decathlon—a student competition consisting of two major challenges as teams design and build highly efficient and innovative buildings powered by renewable energy.
With competitions continuing through 2023, the 10 contests span architecture, engineering, market analysis, durability and resilience, embodied environmental impact, integrated performance, occupant experience, comfort and environmental quality, energy performance and presentation. Just like athletic decathlons, teams must perform well across all contests to be victorious.
After submitting their project proposal, MSU's team advanced as one of 63 finalists that will present April 15-19 to industry-recognized jurors at the virtual Solar Decathlon Competition Event.
"What is so impressive is the students' abilities to balance this project with their studies," said Assistant Professor of Architecture Duane McLemore. "They really got a sense of how big of a commitment the design challenge is, but they also saw what an opportunity it is."
To excel in the design contest, the Solar Decathlon team must create a net-zero home, meaning that the home produces more energy than it consumes. According to Nelson, there are several different ways to approach this challenge, but renewable energy is the primary focus. While some energy must be used, the team must offset it by producing more, he said.
Competing in the attached housing division, the club must meet the challenge's parameters by designing row homes, or flats, and making the building up to three stories above grade, with a building size of 500-2,500 square feet and a lot size up to 3,000 square feet.
Another factor is the climate where the design will be built.
"Climate is going to be different everywhere," said Nelson. "We decided what location to use, which is Starkville, and then started designing for this climate. We are designing on an open, triangular plot at the intersection of Russell St. and Highway 12. When a team member brought up the idea to design there, we all thought it was perfect."
Moving forward, the team must submit their design portfolio, team photos, presentation recording and slides.
Nelson said if the group does well, they likely will take their presentation and pitch to different potential investors to advance to the build competition phase, where the goal will be to adapt a design to be a single-family home, rather than attached housing.
As the Energy Club's president, Nelson said the group came together when he and a couple of friends decided to join an extra-curricular activity on campus. He reached out to several professors for assistance and received outpouring support from Associate Professor of Mechanical Engineering Heejin Cho in the Bagley College of Engineering, as well as McLemore in the School of Architecture. Both have worked closely with the club since its fruition.
"At the start, we didn't think we would ever get this far, but our ideas have become more and more of a reality," said Nelson.
According to McLemore, the design challenge always wants to see products that are student-executed, and he admires their group's ability to recruit because these students already deal with a demanding workload.
Such a large project invokes cross-college contributions, mainly from the Bagley College of Engineering and the College of Architecture, Art and Design. The architecture and engineering students talk around 10 hours per week to make sure all of their ideas align, such as running duct work throughout the design house. The group also holds bi-weekly check-ins with faculty leaders to discuss progress and determine what steps come next.
"Mississippi State has always excelled at the interdisciplinary side of things," said McLemore. "That's not just faculty research, but students and faculty all working together. Nothing is in a silo here, and our students are the perfect example."
MSU is Mississippi's leading university, available online at www.msstate.edu.