Contact: Sasha Steinberg
STARKVILLE, Miss.—Mississippi State University's Speech and Debate Council claimed top national honors in recent competitions, including Mia Robertson of Starkville winning two separate national championships.
"Our speech and debate students were met with extraordinary challenges this season with virtual tournaments, yet as individuals and as a team, they rose to the occasion and beyond. We are so proud of their efforts and so fortunate to get to work with some of the brightest young minds on campus," said MSU communication instructor Cheryl Chambers, the council's faculty advisor and director of forensics who serves alongside the council's debate coach Brett Harvey, MSU's director of civil rights compliance.
The council's debate team produced its most outstanding season to date, competing in eight virtual tournaments with multiple members placing in the semi-finals and finals. Eleven debaters competed in the International Public Debate Association National Tournament held April 9-11, with four advancing past preliminary rounds, including Robertson, a junior political science major who rose above 93 other debaters in the varsity division of the tournament to become National Champion. Robertson also won the IPDA season-long national championship, awarded to the debater with the best overall record for the year, outpacing more than 300 varsity debaters nationwide and making her one of only a few debaters ever to win both championships in a single year.
In addition to Robertson's accomplishments, MSU junior history major Tyler Melvin of Savannah, Georgia, was the third ranked varsity debater in the nation for the season. Several other MSU debaters ranked in the top 10 in their respective divisions. MSU was named the nation's third best debate program for the season—competing with more than 130 schools—and placed third overall at the IPDA National Tournament.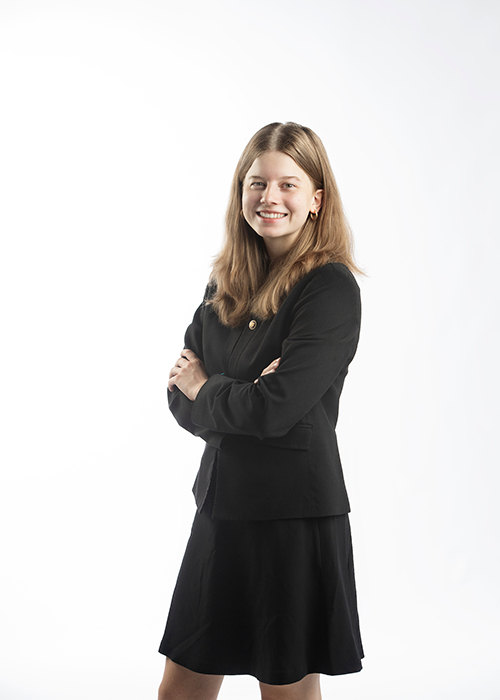 Speech team members also earned multiple accolades from their participation in 15 virtual tournaments. Among these accomplishments was Robertson's qualification for the nation's most prestigious speech competition—the American Forensics Association National Tournament—and the nation's oldest speech tournament—the Interstate Oratory Contest.
Robertson, who previously won the university's first individual national championship in debate in 2019-20, also was selected to represent the students of Mississippi on the Southern Forensics Championship Tournament's governing board. She and her MSU Speech and Debate Council teammates edged out 29 other colleges and universities in January to win first place Overall Sweepstakes at the Southern Forensics tournament, earning the team's first overall regional championship. Fourteen MSU students competed in debate and individual speaking events, earning a cumulative 30 awards. Chambers, a 2006 MSU communication alumna, was named SFC Coach of the Year.
Harvey said MSU has a long history of success in speech and debate. Since being revived in 2015, the Speech and Debate Council has experienced great success, winning numerous tournament and regional championships and seeing students ranked among the top in the nation.
"When we restarted the program in 2015, we decided there was no reason why Mississippi State couldn't be one of the best programs in the country, and we've really seen the students and administration buy into that idea," he said. 
MSU Speech and Debate Council members include (by hometown):
ATLANTA, Georgia—Nathaniel E. Williams, a senior business economics major
AURORA, Illinois—Delaney L. Reed, a senior psychology major
BALDWYN—Dawn M. Jackson, a senior business economics/international business and foreign language/Spanish double-major
CANTON, Georgia—Patrick T. McKenzie, a sophomore business economics major
COFFEEVILLE—Collin R. Staten, a freshman mechanical engineering major
COLLIERVILLE, Tennessee—Nirmal K. Bhatt, a senior mechanical engineering major
ELLISVILLE—Luke Youngblood, a junior mathematics major
GULF BREEZE, Florida—Matteo R. Mauro, a freshman communication/public relations major
HAZLEHURST—Heather R. Harrison, a junior communication major with a double concentration in public relations and broadcast and digital journalism
KOSCIUSKO—Mayukh K. Datta, a senior chemical engineering major
LOUISVILLE—Eric T. Humphries, a senior biochemistry/pre-medicine major
MADISON—Anne Elizabeth Harrington, a senior political science and sociology double-major
PEACHTREE CITY, Georgia—Amanda G. Kronenberger, a junior political science major
RAYMOND—Marcus D. Williams, a junior art/fine arts major.
SAVANNAH, Georgia—Tyler J. Melvin, a junior history major
STARKVILLE—Mia C. Robertson, a junior political science major
VICKSBURG—Ryan E. Jarratt, a senior political science and philosophy double-major
Speech and Debate Council membership is open to all MSU students. Fees and prior experience are not required. Members are expected to participate in regular practices and service projects and may elect to compete in individual speaking events, debating events or both.
Support for the Speech and Debate Council is made possible by the Office of the President, Office of the Provost and Executive Vice President, Stennis Center for Public Service Leadership, Department of Communication, Bagley College of Engineering, Shackouls Honors College and College of Arts and Sciences, among others.
Funding for team activities also is provided through the generosity of Deborah and Philip Rabinowitz, who established The Deborah and Phil Rabinowitz Speech and Debate Council Endowment at MSU. Debbie Rabinowitz, a 1969 communication bachelor's graduate, joined the MSU Debate Team (now the MSU Speech and Debate Council) as a freshman.
To make a tax-deductible donation to the Speech and Debate Council via the MSU Foundation, visit www.msufoundation.com/givenow.
For more information about MSU's Speech and Debate Council and the Department of Communication, visit www.comm.msstate.edu.
MSU is Mississippi's leading university, available online at www.msstate.edu.