Contact: James Carskadon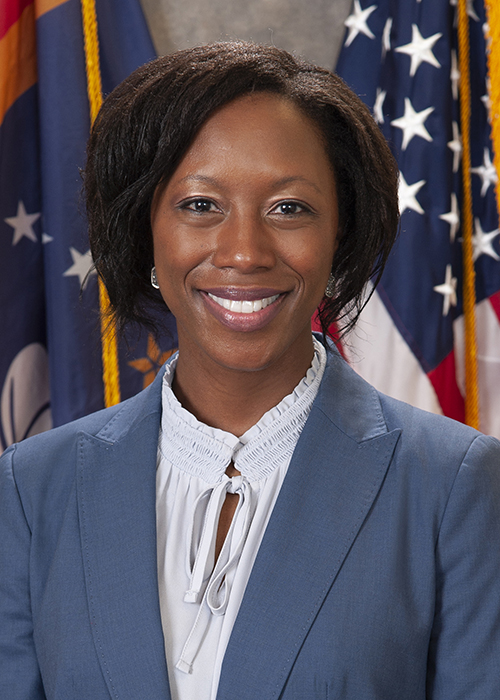 STARKVILLE, Miss.—Shortly before Rhoshunda Kelly graduated from Mississippi State's College of Business in 2001, one of her professors handed her a business card for a contact at the Mississippi Department of Banking and Consumer Finance. That connection led to a job as a bank examiner for the department. Now, 20 years later, Kelly is leading the department as Mississippi's Commissioner of Banking and Consumer Finance.
Gov. Tate Reeves announced Kelly's appointment as commissioner this spring, which was unanimously approved by the Mississippi Senate. Kelly had previously served as acting commissioner since July 2020. She succeeds former commissioner Charlotte Corley, also an MSU alumna. Kelly said the department touches every pocket of the state by regulating state-chartered banks, mortgage providers, title loans and every other aspect of consumer finance in Mississippi.
"The banking and finance industry, and by extension our agency, is a central part of economic growth and stimulation in our state," Kelly said. "We're looking at capturing some of the efficiencies gained during COVID, such as how to better regulate remotely. I think innovation is key as commissioner, that we consider things that make us better, even if they may be different."
Growing up in the Reform community in Choctaw County, Kelly gained familiarity with MSU and knew it was where she wanted to attend college. Initially, she planned to go into the medical field, but realized after a year on campus that she wanted to take a different path. She chose to major in business with a concentration in banking and finance. She also added a minor in English to further develop her interests in reading and writing.
"When I grabbed English as a minor, I didn't know how much I would be writing," Kelly said. "As a regulator, you think you just go crunch the numbers and check the balance sheets, but there's a ton of writing, whether it's proposals, requesting meetings with legislators, emails or letters. For a long time I was the point person on the tasks that required careful writing."
Kelly said several experiences at MSU prepared her for her career, which has been spent moving up the ladder in the Department of Banking and Consumer Finance. She worked jobs on and off campus that taught her how to balance school and work. She said as an introvert, a summer job selling advertisements for a university directory taught her how to build relationships and effectively communicate. She was part of a peer mentoring and counseling group on campus and was a student representative for the traffic appeals court, both experiences that taught her the value of listening and taking in the perspectives of others. She said she also had positive experiences with all of her professors, even those who taught more difficult classes.
"It's been 20 years since I graduated, but the lessons learned stick with you," Kelly said. "When I was in that moment, I didn't realize how much of an impact that committee, that experience, that class or that major would actually play in who I would become. When you're that age, you just don't think that far ahead. I'm fortunate to have made some of the right choices back then that helped me get where I am now."
For more on the Mississippi Department of Banking and Consumer Finance, visit www.dbcf.ms.gov.
MSU's College of Business is online at www.business.msstate.edu.
MSU is Mississippi's leading university, available online at www.msstate.edu.