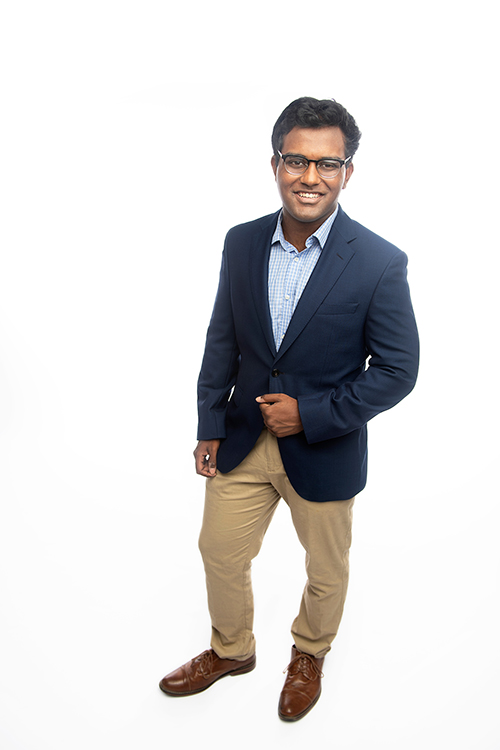 Contact: Sasha Steinberg
STARKVILLE, Miss.—A senior chemical engineering major in the James Worth Bagley College of Engineering and the Judy and Bobby Shackouls Honors College at Mississippi State University is receiving the Humanity in Action Fellowship.
Mayukh K. Datta of Kosciusko is the university's second student to be recognized with the prestigious award. Teddy P. "Trey" Wallace, an MSU industrial engineering graduate, received the fellowship in 2018.
Datta will participate virtually June 1-23 in HIA's Amsterdam Fellowship. Of the four fellowships available this year, Datta said he was drawn to this one because of its focus on environmental and energy-related issues.
"I'm also really interested in how pluralistic societies work and the kinds of challenges they face," he said. "The Netherlands is one of the world's most diverse countries, so I think I can learn a lot from it and draw connections between Amsterdam and Mississippi."
Datta also looks forward to applying knowledge from the HIA Fellowship to expanding "Feeding the Future Mississippi," a nonprofit he co-founded in 2019 with friends Braeden Foldenauer and Ryan Hopson to improve food security in Holmes County. Foldenauer is a recent Harvard University graduate from Southaven; Hopson, an Olive Branch native who graduated this spring with an MSU bachelor's in computer engineering.
"Growing up in the city of Durant, I remember seeing friends getting their only meal in the school cafeteria. When I participated in the Delta Scholars Program as a freshman at Mississippi State, I came face-to-face with hard data about Holmes County and learned that it has one of the highest childhood food insecurity rates in the country. That experience showed me there was a need and got me thinking about how I could serve our state," Datta said.
"Feeding the Future Mississippi" has provided more than 5,000 meals since its inception, and the nonprofit is partnering with the Kroger Food Company to build a community garden in Durant.
Following graduation, Datta said he plans to earn a Ph.D. in economics and return to Mississippi to work in environmental justice advocacy.
"I believe education should be a combination of many things, and I'm very thankful for my engineering background from Mississippi State in teaching me that lesson. Engineering is not only about what needs to happen but also why, and that 'full picture' knowledge is an indispensable tool the engineering program here provides," said the Bagley College Undergraduate Research Scholarship recipient who founded the MSU Climate Reality Project student organization.
Datta also praised the university for connecting him with supportive faculty like David Hoffman, an associate professor in MSU's Department of Anthropology and Middle Eastern Cultures who also serves as interim director of the Shackouls Honors College Office of Prestigious External Scholarships.
"Dr. Hoffman not only has helped me figure out how to tell my story during the Humanity in Action application process, but he's been like a father figure to me. He's one of those professors I go back to because he's always there, providing great advice and insight," Datta said. "Working with him is an experience that has taught me so much about myself and the work I want to do."
Hoffman said Datta's compassion for others and his experience with community-based activism made him a natural choice for the HIA fellowship.
"Mayukh has reminded me of why I became a professor in the first place. Being able to work with a young person with a thirst for knowledge and desire to do good in this world is an inspiration," Hoffman said. "When I think of Humanity in Action, I think of the best, brightest, most motivated, and those who not only have the potential to change the world but actually act on that promise. Mayukh fits this profile and goes beyond. Simply put, he has only just begun to scratch the surface of his potential."
For more on the Humanity in Action Fellowship program, visit www.humanityinaction.org.
Learn more about the Shackouls Honors College and MSU's prestigious external scholarship opportunities at www.honors.msstate.edu.
MSU is Mississippi's leading university, available online at www.msstate.edu.