Contact: Jeremiah Dumas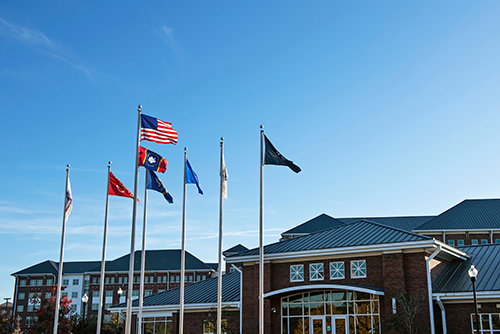 STARKVILLE, Miss.—In memory of those lost in battle and in honor of those wounded in battle, Mississippi State Parking and Transit Services now is offering university enrolled or employed Gold Star family members and Purple Heart recipients complimentary annual parking permits.
MSU's Executive Director of Transportation Jeremiah Dumas said the idea originated from the university's Parking Manager Darrell Surrette, a Mississippi National Guard retiree, who spotted a vehicle on campus with a Gold Star license plate. A disabled veteran and Bronze Star for Valor recipient with multiple tours under his belt, Surrette saw that the vehicle also had a student permit on it, and he went to great lengths to learn about the student and the details surrounding the event that killed her active-duty father.
"I have the good fortune of working with folks who have spent a considerable part of their careers in the military," Dumas said. "This passion and concern for those in military service and their family members is something I really appreciate, and this is the least we can do to honor the memory of these soldiers."
MSU has been recognized as a Top 10 Military-Friendly School and Military-Friendly Spouse School by VIQTORY, which annually evaluates post-secondary schools for support of student veterans, service members and dependents. The 143-year-old land-grant institution also is designated a Purple Heart University by the Military Order of the Purple Heart.
"We strive to provide support far beyond the classroom, and this initiative is another great example of that support," said Brian Locke, MSU director of Veterans and Military Affairs. "We are thrilled that campus partners like Parking and Transit Services recognize ways to support this unique population of students and are taking steps to show their commitment to them."
While these complimentary permits are available for those employed or enrolled at MSU who are Gold Star family members or Purple Heart recipients, free permits for recipients of other distinguished wartime awards of valor will be considered on a case-by-case basis. For more information, please contact Parking and Transit Services at 662-325-1827 or visit the office in the Starkville campus Roberts Building, 412 Lee Blvd.
MSU is Mississippi's leading university, available online at www.msstate.edu.