Contact: Sasha Steinberg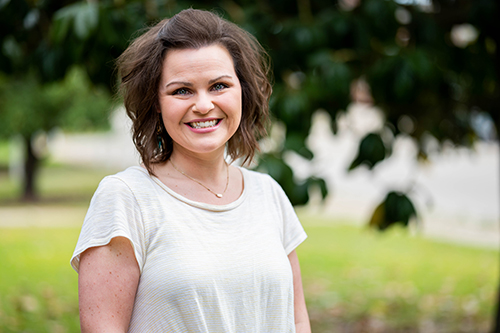 STARKVILLE, Miss.—Leslie Tally, a two-time graduate of Mississippi State University's College of Education, has been named Mississippi Teacher of the Year.
The Corinth native is a second-grade English Language Arts teacher at Lawhon Elementary School in the Tupelo Public School District. She holds MSU bachelor's and master's degrees in elementary education.
"I had the honor to teach Leslie when she was a student in the College of Education, and I knew from the moment I met her she was going to be an outstanding teacher. I am so proud of Leslie's accomplishments," said Teresa Jayroe, professor and dean of MSU's College of Education.
Sponsored by the Mississippi Department of Education's Office of Teaching and Leading, the Teacher of the Year program recognizes outstanding teaching performance at the district, state and national level. Among other criteria, the MTOY recipient must be a full-time, certified K-12 teacher at a state-accredited public school, possess three years of teaching experience and have plans to continue in an active teaching role the following year.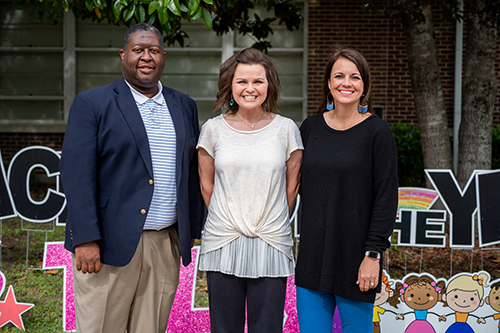 As MTOY, Tally is receiving a $5,000 stipend from the Mississippi Department of Education and is in the running for National Teacher of the Year. As an ambassador for the teaching profession, she will have the chance to speak at various schools and organizational functions and participate in professional development.
Tally said she and her family were "completely overjoyed" at learning she was selected to receive this prestigious honor.
"Finding out in the moment along with everyone else was exciting. It was a rush of emotions, but predominantly joy," she said. "I think it will be a tremendous year for professional and personal growth, and I'm looking forward to serving in this new role."
"Born and raised a Bulldog," Tally said she is grateful for the many Mississippi State professors who served as "great models" for her in the classroom. In addition to Jayroe, she expressed gratitude for Devon Brenner, professor in the Department of Curriculum, Instruction and Special Education; the late Dwight Hare, former associate director for research and evaluation at MSU's Research and Curriculum Unit; and Nicole Thompson, former associate professor in the Department of Curriculum, Instruction and Special Education.
"These professors were wonderful in so many ways, from teaching me how to cultivate relationships to helping me understand how to implement research into my instruction. I learned so much from them," Tally said. "In one of my very first undergraduate classes, Dr. Jayroe explained that taking care of your personal health and professional growth helps you be an excellent teacher for your students. That life lesson still stands out to me."
Tally said she strives to be a model for her students by being a lifelong learner. She participated in the Orton-Gillingham Institute for Multi-Sensory Education training program, is National Board Certified in language and literacy, and is in the final stages of becoming a certified dyslexia specialist. She said English Language Arts has become her "calling" as an educator, and she enjoys using her training in research-based methods and practices to help students overcome challenges with reading or language-based disorders.
"I tell my students about the classes I'm taking or the work I'm doing to better myself, so they can have a broader mindset about learning," Tally said. "I want them to understand that learning doesn't stop once they finish a grade level, pass a test, or graduate from high school or college; it's ongoing. Seeing them grow and develop self-confidence is what motivates me more than anything as an educator because I want them to be successful."
Established in 1903, MSU's College of Education is home to six academic departments, one research unit and numerous service units. For more about the college, visit www.educ.msstate.edu.
MSU is Mississippi's leading university, available online at www.msstate.edu.