Contact: Vanessa Beeson
STARKVILLE, Miss.—Mississippi State faculty and staff in the College of Forest Resources and the Forest and Wildlife Research Center have received recent honors for teaching, research and outreach.  
Wes Burger, CFR interim dean and FWRC interim director, spoke at an annual awards ceremony at the conclusion of the spring semester about how honorees continue to lead despite a challenging year.
"We are a small college but very productive," Burger said. "During the last year, our  faculty continued their research in fields and laboratories, produced scientific publications and applied for research funding, all while teaching classes both face-to-face and online. I am so proud of the work our faculty, staff and students are doing to advance natural resource conservation and utilization."
This year's honorees include: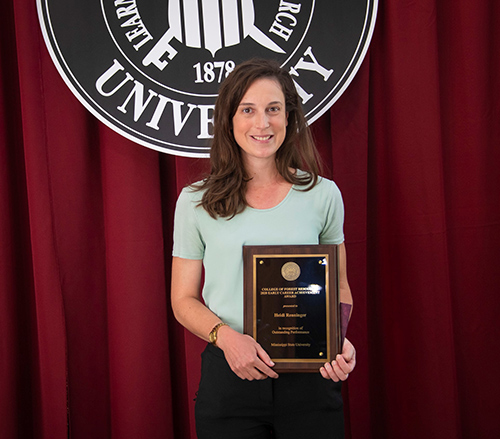 —Assistant Professor Heidi Renninger, Department of Forestry, CFR/FWRC Early Career Achievement Award. In seven years at MSU, Renninger has garnered more than $3.8 million in extramural funding, published eight peer-reviewed journal articles and participated in more than 40 oral and poster presentations. As an educator, she has developed key courses—tree  physiology and forest ecophysiology—to strengthen the department's programs and has mentored 10 graduate students. She is associate editor of Frontiers in Plant Science – Functional Plant Ecology and recent guest editor of Forest Science.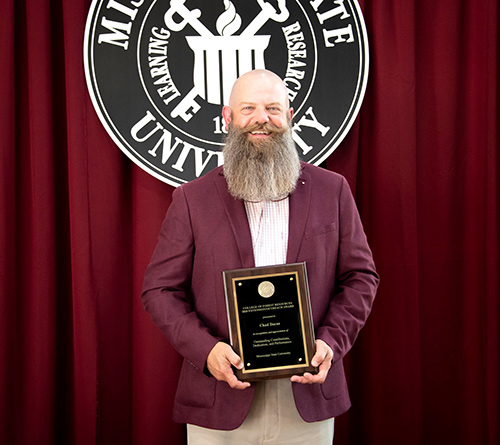 —Chad Dacus, training manager for Wildlife Services National Training Academy (NTA), CFR/FWRC Extension/Outreach Award. Dacus, also an instructor with the MSU Extension Service, leads NTA, which is a partnership between the USDA Wildlife Services and MSU's Center for Resolving Human-Wildlife Conflicts in the Forest and Wildlife Research Center. He manages a $1.3 million budget, supervising five employees focused on 11 focal areas of safety training for wildlife services personnel. Dacus has trained more than 1,000 federal wildlife agents and maintains more than 8,000 training records. One of the online courses Dacus taught in 2020 had more than 700 students in attendance.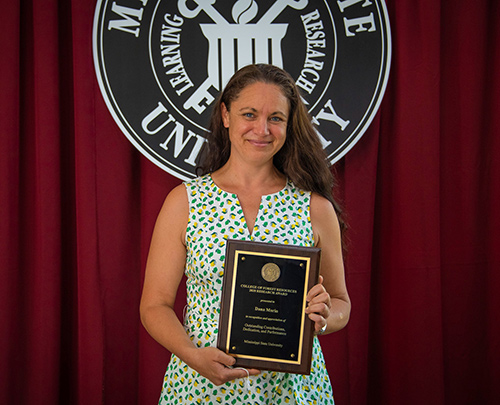 —Assistant Professor Dana Morin, Department of Wildlife, Fisheries and Aquaculture, CFR/FWRC Research Award. In less than two years at MSU, Morin has secured $1.2 million in extramural funding. She advises five graduate students and serves on committees of seven more. An internationally recognized expert in sampling and population modeling, Morin is a member of the International Union for Conservation of Nature's Species Survival Commission as a pangolin (anteater) and bear sampling specialist. In 2019, she led the development of guidance on pangolin monitoring for world governments, which was submitted to the 18th Conference of the Parties to the Convention on International Trade in Endangered Species of Wild Fauna and Flora (CITIES) in Geneva, where she presented her findings.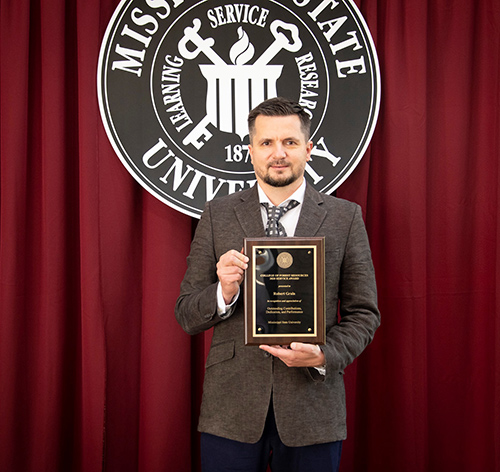 —Professor Robert Grala, Department of Forestry, CFR/FWRC Service Award. Grala has been advisor for the Xi Sigma Pi Forestry Honor Society for four years and the MSU Society of American Foresters student chapter for the past 11 years. During his tenure, the MSU SAF Student Chapter was recognized four times as Outstanding Student Chapter nationally, placing at least in the top three in other years. Grala played a pivotal role in creating the department's new forest business concentration. He serves as vice chair of the MSU Division of Agriculture, Forestry and Veterinary Medicine Faculty Senate, chair of the Distance Learning Committee and is a member of several other university committees. An SAF and International Society of Forest Resource Economics member, Grala has chaired the SAF Economics, Policy, and Law Working Group and assisted at the SAF Forest Science and Technology Board.
—Assistant Professor Joshua Granger, Department of Forestry, CFR/FWRC Teaching Award. Since joining MSU in 2018, Granger has taught 31 courses with a total enrollment of 354 students. He is the primary administrator for the department's Summer Field Program, an intensive nine-week summer course required of all forestry majors. He is known for his hands-on field instruction and his student-centered cooperative approach, where students teach concepts such as ecology, silvics and species identification, which students said is an engaging method that enhances learning. Granger has mentored 16 graduate and 14 undergraduate students, garnering more than $500,000 in funds relevant to teaching and helping to facilitate five peer-reviewed publications involving students and over 50 student-led professional presentations.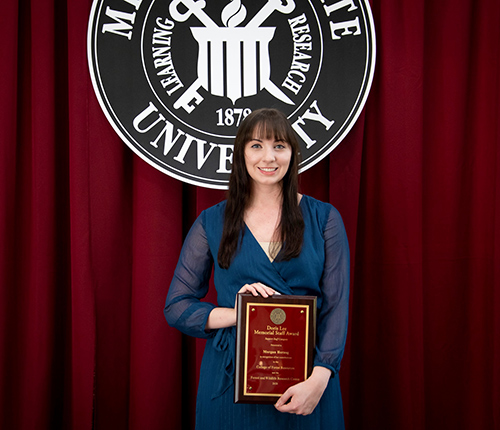 —Morgan Herzog, business coordinator for the Center for Resolving Human-Wildlife Conflicts, CFR/FWRC Doris Lee Memorial Staff Award, in the support staff category. Herzog manages the day-to-day operations of the National Training Academy, including organizing in-person and virtual events and workshops, and coordinating with instructors, staff and attendees.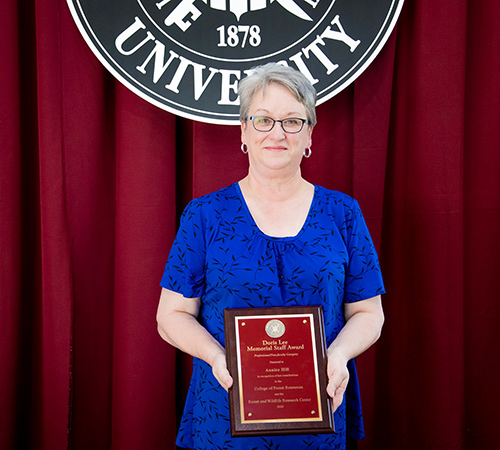 —Annice Hill, business manager I for the Department of Wildlife, Fisheries and Aquaculture, CFR/FWRC Doris Lee Memorial Staff Award, in the professional/non-faculty category. Hill has been with MSU for 27 years, serving the Department of Wildlife, Fisheries and Aquaculture for the last 23.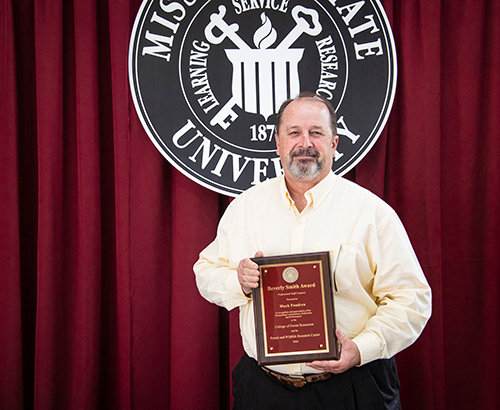 —Mack Fondren, facilities coordinator for the Forest and Wildlife Research Center, received the inaugural CFR/FWRC Beverly Smith Professional Staff Award. Fondren, who has been with the university for 32 years, has served as manager of the South Farm Aquaculture and Aquatic Science Facility for the last 16 years, helping establish MSU as a national leader in aquaculture research. Fondren oversees facilities maintenance for the ponds and raceways with duties ranging from feeding and animal husbandry to facility maintenance and creative construction projects, such as modifications to large recirculating aquaculture systems, laboratory renovations and development of a hatchery system for fish.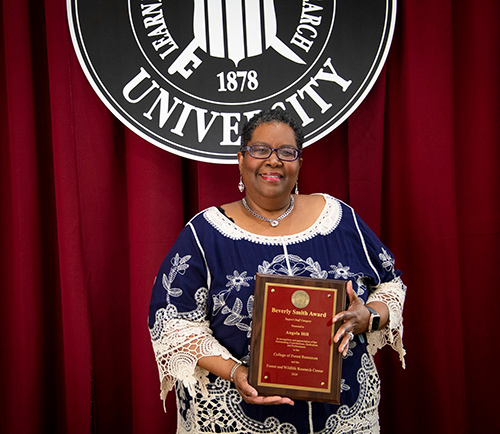 —Angela Hill, administrative assistant I, inaugural CFR/FWRC Beverly Smith Support Staff Award. Serving MSU for 24 years, Hill has been a member of the Department of Wildlife, Fisheries and Aquaculture for 19 years and helps manage the department's day-to-day operations. Hill previously has been recognized as a Doris Lee Memorial Staff Award recipient.
For more on the College of Forest Resources, visit www.cfr.msstate.edu. Learn about the Forest and Wildlife Research Center by visiting www.fwrc.msstate.edu.
MSU is Mississippi's leading university, available online at www.msstate.edu.
Photos by Dominique Belcher