Contact: Camille Carskadon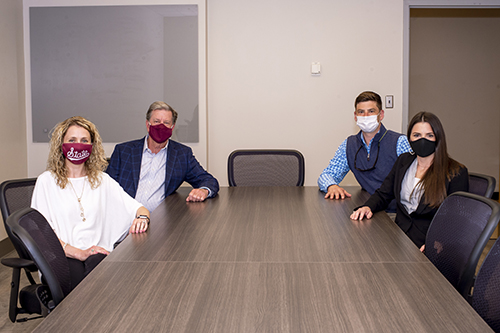 STARKVILLE, Miss.—Mississippi State's T.K. Martin Center for Technology and Disability has new furniture for its conference room and waiting area, thanks to a generous donation from Sullivan's Office Supply, a staple of the Starkville Main Street business community for over 60 years.
Kasee Stratton-Gadke, T.K. Martin's director, said these much-needed updates enhance the reputation of the center, which is entering its 25th year of "outstanding service" on the Starkville campus.
"We are so appreciative of our partnership with Sullivan's and the Langston family. This donation provides a comfortable space for us to hold staff meetings, visit with guests and clients, support small trainings, and hold parent-teacher conferences for Project IMPACT, the center's preschool," said Stratton-Gadke, also an associate professor of school psychology in MSU's Department of Counseling, Educational Psychology and Foundations.
Sullivan's Office Supply President Steve Langston, a 1973 MSU general business administration graduate, said he and wife Linda, also an owner and officer in the company, recognize the T.K. Martin Center's value not only to the university and local community but also the entire state of Mississippi.
"The T.K. Martin Center is such a special place. We've known children and adults who have benefitted from its services," Langston said. "Mississippi State has always tried to welcome all students, and the T.K. Martin Center is very much a part of that."
Teresa Jayroe, professor and dean of MSU's College of Education, said, "We truly appreciate the furniture and the continuing support from Sullivan's not only for the T.K. Martin Center but also for the College of Education. Steve and his family are always willing to meet with and assist the faculty and staff in the college."
The T.K. Martin Center for Technology and Disability provides comprehensive, multi-disciplinary evaluations and services to remove limitations through the application of assistive technology, evidenced-based practice, training and educational support. Its comprehensive services allow individuals across the lifespan to participate in educational, vocational and leisure activities to the fullest degree they choose while continuing to advance research in disability. For more information, visit www.tkmartin.msstate.edu.
Established in 1903, MSU's College of Education is home to six academic departments, one research unit and numerous service units. For more, visit www.educ.msstate.edu.
MSU is Mississippi's leading university, available online at www.msstate.edu.