Contact: Chris Bryant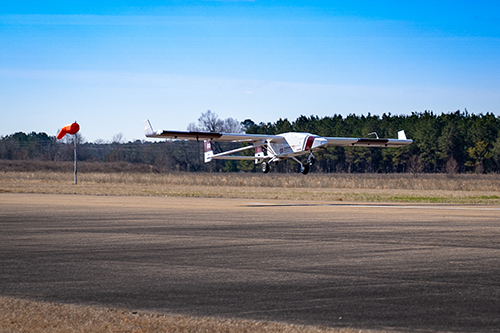 STARKVILLE, Miss.—The Tennessee Valley Authority and a Mississippi State flight research laboratory have agreed to collaborate on expanding the company's use of unmanned aircraft systems for inspections in order to improve safety and lower costs.
The partnership between TVA, which supplies electricity to nearly 10 million people across seven southeastern states, and Mississippi State's Raspet Flight Research Laboratory draws from the flight lab's expertise in evaluating unmanned aircraft systems, known as UAS, and its associated technologies.
"TVA is building the energy system of the future, and we need to use the latest technology to do it," said David Hill, general manager TVA Aviation Services. "We currently utilize small UAS at generation sites and across our transmission system.  This partnership will facilitate the next evolution of this technology, allowing TVA to continue providing low-cost, clean, reliable power."      
MSU's Raspet Flight Lab was designated in 2020 as the Federal Aviation Administration's UAS Safety Research Facility, placing the lab at the helm of studying and developing safety and certification standards as UAS become increasingly integrated in the U.S. national airspace system.
Central to the new joint effort is the utilization of larger UAS, categorized as Group 3 unmanned aircraft, to scale the power provider's existing UAS operations. Group 3 aircraft can weigh up to 1,320 pounds and fly at altitudes not exceeding 18,000 feet.
With more than 16,300 miles of line, more than 100,000 transmission structures, and hundreds of communication towers and properties located throughout an 80,000-square-mile region, TVA has the second largest transmission system in North America. Inspecting its resources regularly, including after weather events, is key in TVA sustaining its 99.999 percent service reliability since 2000. Finding new ways to safely increase inspection efficiency helps reduce operating costs, keeping TVA power rates some of the lowest in the nation.            
UAS are not presently permitted to operate unless they can be seen visually by the pilot or a trained observer working with the pilot. The FAA and UAS industry leaders worldwide, including Raspet, are researching and evaluating methods to expand UAS operations safely past this present limitation.  For example, Raspet researchers are among those investigating various technologies which enable UAS to reliably detect and avoid other aircraft in surrounding airspace.
"Future FAA-approved implementation of detect—and—avoid systems will allow UAS to operate safely beyond visual line of site – a necessary step for these systems to reach their full potential," said Tom Brooks, director of the Raspet Flight Lab. "We're eager to work alongside TVA in evaluating UAS technologies and determining how they align with TVA's present and future operational needs."
UAS Program Manager Madison Dixon is Raspet's principal investigator for the project. 
"TVA and Raspet will closely collaborate on this research effort," said Dixon. "Group 3 aircraft have tremendous potential to expand safe, efficient unmanned inspections.  Together, we'll work to ensure this potential is reached."
About Tennessee Valley Authority  
The Tennessee Valley Authority is a corporate agency of the United States that provides electricity for business customers and local power companies serving nearly 10 million people in parts of seven southeastern states. TVA receives no taxpayer funding, deriving virtually all of its revenues from sales of electricity. In addition to operating and investing its revenues in its electric system, TVA provides flood control, navigation and land management for the Tennessee River system, and assists local power companies and state and local governments with economic development and job creation.
About Raspet Flight Research Laboratory
MSU's Raspet Flight Research Laboratory is the nation's leading academic research center dedicated exclusively to the advancement of Unmanned Aircraft Systems. Raspet is the only institute in the world designated both as the FAA's UAS Safety Research Facility and as official UAS Test Sites for both the FAA and the U.S. Department of Homeland Security. Home to a fleet of the largest and most capable unmanned aircraft in academic use, Raspet conducts UAS research on behalf of federal agencies and commercial industry alike, and it remains a world leader in composite materials research.
MSU is Mississippi's leading university, available online at msstate.edu.