Contact: Allison Matthews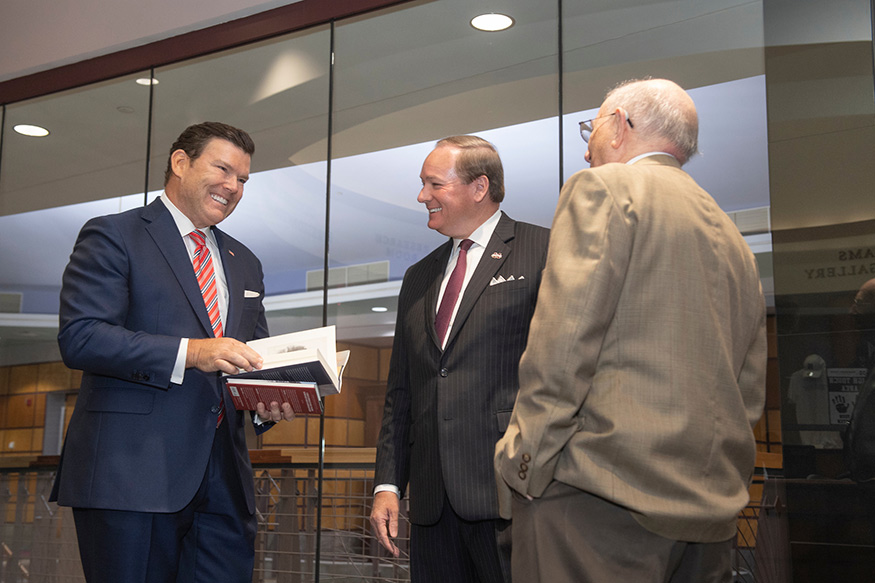 STARKVILLE, Miss.—National journalist Bret Baier met with Mississippi State President Mark E. Keenum on campus today [June 2] before Baier toured the Ulysses S. Grant Presidential Library at MSU.
Anchor of "Special Report with Bret Baier" on the Fox News Channel, he also is the chief political correspondent for Fox. Baier is author of "To Rescue the Republic: Ulysses S. Grant, the Fragile Union, and the Crisis of 1876," written with Catherine Whitney and forthcoming in October from HarperCollins.
Baier and Whitney, who joined him for the MSU tour along with researcher Sydney Soderberg, have authored other bestselling books—"Three Days at the Brink: FDR's Daring Gamble to Win World War II" (HarperCollins 2019), "Three Days in Moscow: Ronald Reagan and the Fall of the Soviet Empire" (HarperCollins 2018), and "Three Days in January: Dwight Eisenhower's Final Mission" (HarperCollins 2017). Baier also wrote "Special Heart: A Journey of Faith, Hope, Courage and Love" (Hachette Book Group 2014) about his son's battle with heart disease.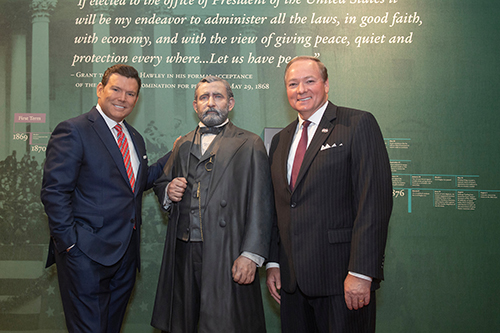 The Ulysses S. Grant Presidential Library at MSU's Mitchell Memorial Library contains 15,000 linear feet of correspondence, research notes, published monographs, artifacts, photographs, scrapbooks and memorabilia by and about the United States' 18th president, covering his early life, Civil War triumphs, presidency and beyond. MSU is one of only six universities in the nation to house a presidential library.
The university also is home to the Frank J. and Virginia Williams Collection of Lincolniana, a large collection of historical memorabilia, priceless artifacts, original, signed documents, ephemera, books published over a span of 150 years, and both original one-of-a-kind, and early mass-produced, artwork relating to Lincoln and the Civil War era. The Ulysses S. Grant Presidential Library and Williams Collection of Lincolniana have drawn thousands of visitors since the exhibit space opened in 2017.
For more, visit www.usgrantlibrary.org.
MSU is Mississippi's leading university, available online at www.msstate.edu.