Contact: Reagan Poston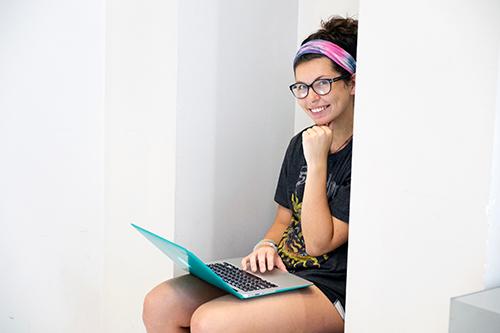 STARKVILLE, Miss.—Mississippi State's College of Agriculture and Life Sciences is introducing new online master's degrees through the university's Center for Distance Education.
CALS master's degrees are now available in agribusiness management, agriculture with an animal and dairy sciences concentration, and early intervention. Enrollment is open for classes beginning in August. The recent offerings are in addition to two existing CALS online degrees—a master's in food science, nutrition and health promotion with a health promotion concentration, and a bachelor's in human development and family science with a child development concentration.
Scott Willard, interim dean of the College of Agriculture and Life Sciences, said he is especially pleased for those with established careers to have these program options that prove the best fit for them.
"For those in the workforce looking for career advancement or change, these online opportunities bring flexibility in schedules and location and allow for a work-life balance. An online degree is also a great option for anyone whose desired degree is not offered locally or regionally," Willard said.
The Master of Agribusiness Management is a 30-hour interdisciplinary degree in CALS and the College of Business, administered through MSU's Department of Agricultural Economics.
The 31-hour Master of Agriculture degree in the Department of Animal and Dairy Sciences prepares students to advance in animal feeding, breeding and production.
The Master of Science in Early Intervention, also 30 hours and offered through MSU's School of Human Sciences, is an innovative and comprehensive program designed to address the shortage of trained professionals with expertise in working with infants, toddlers and preschoolers with special needs and their families.
"We're excited to have more of the new perspectives that online students bring to further enhance the rich learning environment we're always striving to uphold," Willard said.
Current students pursuing online degrees in CALS echo Willard's sentiment.
Quinton Roof, a native of Columbia, South Carolina, seeking a Master of Science in Food Science, Nutrition and Health Promotion with a health promotion concentration, shared his experience working toward an MSU online degree.
"Taking part in online classes has been completely opposite of what my expectations were," Roof said. "I expected it to be isolating, but what I've found online through Mississippi State is a community of diverse opinions, beliefs and perspectives where we're all excited to share our experiences and knowledge of the material we are learning."
Roof earned an undergraduate degree in biology from Presbyterian College in Clinton, South Carolina, and is now a full-time chemist at the South Carolina Department of Agriculture.
"My professors are understanding about the other responsibilities their online students might have, be it careers, family or both. They're without a doubt the best part of online learning: responsive, engaged and welcoming. Having an open-door policy is hard to do in cyberspace, but they make it happen," Roof said.
Though agribusiness management, agriculture and early intervention are the most recent online degree programs, CALS hopes to continue to grow in the number of degrees available online.  
To learn more about Mississippi State's online degree programs, visit online.msstate.edu.
To learn more about the College of Agriculture and Life Sciences, visit www.cals.msstate.edu.
MSU is Mississippi's leading university, available online at www.msstate.edu.