Jerry Harkness, a civil rights pioneer and former Loyola University of Chicago basketball team captain who played in the 1963 "Game of Change" with Mississippi State University, has died at age 81.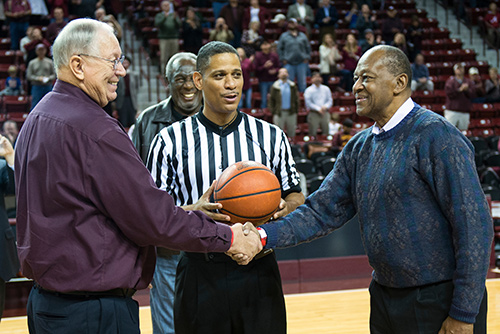 The Bulldogs participated in the "Game of Change" when MSU Coach Babe McCarthy defied Gov. Ross Barnett's injunction to prevent the team from leaving the state to play in the NCAA basketball tournament in East Lansing, Michigan, because he didn't want the team to play African Americans. The team departed and crossed states lines before the injunction could be served. When MSU's captain Joe Dan Gold met Harkness at center court to shake hands, the moment marked an iconic symbol of the civil rights movement. The opposing captains kept in touch and Harkness became a friend to the basketball program and university.
Harkness also famously shook hands with MSU center Stan Brinker prior to the tipoff of the game in a moment captured and shared by national wire service photographers. Harkness and Brinker reenacted the photo a half-century later in Starkville.
"Jerry Harkness was a true civil rights pioneer and a great gentleman as well as a renowned college and professional athlete," said MSU President Mark E. Keenum. "I think he maintained a lifetime admiration for MSU and deeply appreciated the respect he was shown by our student athletes on and off the court during the 'Game of Change' back in 1963. It was my great honor to host Mr. Harkness and his Loyola teammates in Starkville during 50th anniversary events celebrating that significant event in college basketball and in Mississippi's history."
In 2013, Harkness was part of a symposium at MSU titled "Game of Change: The Impact of Sports on Civil Rights," which commemorated the event's 50th anniversary. During the event, Harkness said "The No. 1 game in my life was not winning the national (collegiate) title; it was the Mississippi State-Loyola game and what it did for America."
After his college career, Harkness advanced to become a National Basketball Association and American Basketball Association player. He later became the first Black salesman for Quaker Oats, the first Black fundraiser for United Way and the first Black sportscaster in Indianapolis.