Contact: Harriet Laird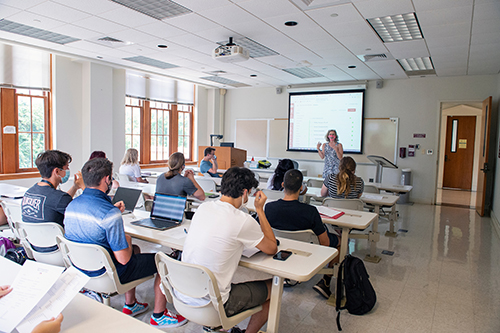 STARKVILLE, Miss.—Moving the needle on retention and graduation rates is a top priority for college and university officials across the nation, and innovative student success initiatives are being embraced by many—including Mississippi State.
According to the National Center for Education Statistics, in 2019 the overall six-year graduation rate for first-time, full-time undergraduate students was 62% for those who enrolled at public four-year universities in 2013. This percentage and timeframe have been the catalysts for schools like MSU to more effectively support student outcomes.
Several steps are being taken by the university to give additional student assistance, including enhanced onboarding, data-informed advising, improved academic offerings and more intervention methods.
Thomas Bourgeois, interim associate vice president for student success and dean of students, said, "We know successful students rely on a connection to faculty, classmates and advisors to achieve their academic goals. There are additional steps we're now undertaking to foster stronger student-faculty ties, activities and programs that are certain to yield increased student persistence."
An anonymous private gift through the MSU Foundation is the financial basis for MSU's new Center for Academic Advising, aimed at ensuring student onboarding and educational goal progression. A new executive director of advising will be responsible for developing and maintaining this learner-centric environment, while overseeing a pilot program of professional advisors and developing strategies used to encourage academic continuity, engagement and completion.
Along with this new center, the university is adding state-of-the-art software as a three-year pilot. The program is known for better linking students with academic advisors and for providing early alerts when students need immediate assistance. It also generates data on those who might benefit from use of MSU's Learning Center, tutoring, study groups and Supplemental Instruction, or SI. Tutoring will see expanded hours as well, and SI will grow its course numbers.
"We know that the classroom experience is especially important and are determined to minimize any hinderance to success," said David Shaw, provost and executive vice president. "Engaging students in their own learning and having them actively participate in it can only contribute to improved skills development and better understanding of the curriculum."
Furthering a culture geared toward success, improvements are being made to MSU's intervention strategies. The current Navigator and Pathfinder programs, which utilize students to help guide freshmen through their first year, are being combined. This grouping will then be integrated with a new academic coaching model that will employ professional staff and graduate assistants to continue to engage with students and help keep them on a forward path.
 Regina Hyatt, vice president for student affairs, said, "We recognize that student success requires a focus on the student experience inside and outside of the classroom. Our student success efforts will require engagement from all aspects of the university, and we look forward to working together to ensure our students have what they need to achieve their academic, career and personal goals."
The university also has plans to study and grow existing student success academic programs such as College Ready and First-Year Experience. With College Ready, an early enrollment program for incoming freshmen, more course offerings and student programming are being added. FYE will be part of the discussion related to MSU's General Education Task Force which is examining curriculum opportunities that could advance FYE offerings.
These proactive university measures were generated from MSU's current Student Success Task Force report. This document outlines specific, innovative approaches to student engagement, assessment of on-going programs and creation of new programming.
MSU is Mississippi's leading university, available online at www.msstate.edu.