Contact: Sasha Steinberg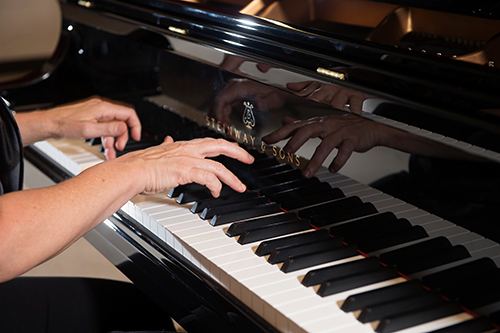 STARKVILLE, Miss.—Beginning Friday, Sept. 10, Mississippi State will offer a series of 10 midday classes for adults who wish to learn the basics of playing the piano.
The 50-minute sessions begin at 12:40 p.m. and are organized and coordinated by Jackie Edwards-Henry, professor of piano and piano pedagogy in the university's Department of Music.
Only a few spaces are available to allow for some distancing in the 12-station Piano Lab, and students and instructors will be required to wear masks during the class. Spaces will be filled on a first-come, first-served basis. The cost is $170 for the classes, plus materials.
With the exception of the first two taught by Edwards-Henry, the classes will be co-taught by student interns.
"We define adult beginners as those who are 18 or older and have no prior experience with piano," Edwards-Henry said. "I will critique the student interns and guide the overall progress of the class."
Classes conclude Nov. 19. All sessions are scheduled in the Piano Lab of Building C at the music department complex on Morrill Road.
For more information, contact Edwards-Henry at 662-325-2864 or jackie.edwards-henry@msstate.edu.
Learn more about MSU's Department of Music at www.music.msstate.edu.
MSU is Mississippi's leading university, available online at www.msstate.edu.