Contact: Meg Henderson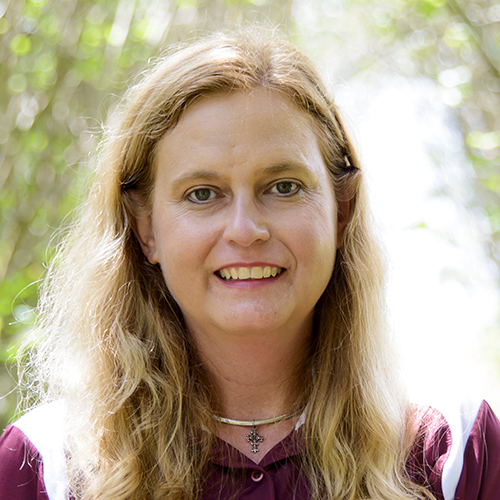 STARKVILLE, Miss.—A Mississippi State horticulture faculty member is a new fellow of the nation's premier horticultural organization.
Patricia Knight, a research professor in the MSU Department of Plant and Soil Sciences, is now a fellow of the American Society for Horticultural Science, or ASHS, the organization announced at the annual conference held recently in Denver, Colorado.
Knight also is director of coastal horticulture research at the South Mississippi Branch Experiment Station, an off-campus research facility of MSU's Coastal Research and Extension Center and branch of the statewide Mississippi Agricultural and Forestry Experiment Station.
James Henderson, professor and head of the Biloxi center, commented on Knight's lifelong commitment to advancing the science of ornamental horticulture.
"Dr. Knight has worked closely over the years with the USDA Agricultural Research Service to expand and promote new varieties of annual, perennial and woody ornamental plants," he said. "Her leadership in directing our coastal horticulture research program is of tremendous value, and this recognition of her career by her professional association is a powerful testament to her life's work. Speaking for myself and her colleagues at the Coastal R&E Center, we are all very proud of Dr. Knight."
Knight credits the honor to her years of research and leadership within ASHS. She joined in 1992 as an undergraduate student at Auburn University and was active through graduate school at Auburn and Virginia Tech. As an MSU faculty member, Knight has received several awards for her work over the last 20 years and has published numerous refereed articles and abstracts in ASHS journals. Her graduate students also have been active in ASHS, winning and placing in several competitions.
"Being named a fellow is a great honor and incredibly humbling," Knight said. "It means that your academic peers find that your career efforts are outstanding and worthy of recognition. I am beyond proud to be an ASHS Fellow."
Knight also recognizes the contributions of her colleagues.
"I really appreciate the nomination by Dr. Christine Coker as well as the support of our horticulture team," she said. "No one accomplishes anything without the support of their colleagues."
Established in 1903, the ASHS is an international society for horticultural professionals that promotes scientific research, education and application of current practices and issues in the worldwide horticultural community.
As the highest honor an ASHS member can earn, fellow status recognizes individuals who have been with the organization for more than 10 years and have made outstanding contributions to the organization and the field of horticulture. Candidates are nominated by members and selected by a screening committee.
To learn more about the Coastal Research and Extension Center, visit http://coastal.msstate.edu. To learn more about the Mississippi Agricultural and Forestry Experiment Station, visit www.mafes.msstate.edu.
MSU is Mississippi's leading university, available online at www.msstate.edu.