Contact: Sarah Nicholas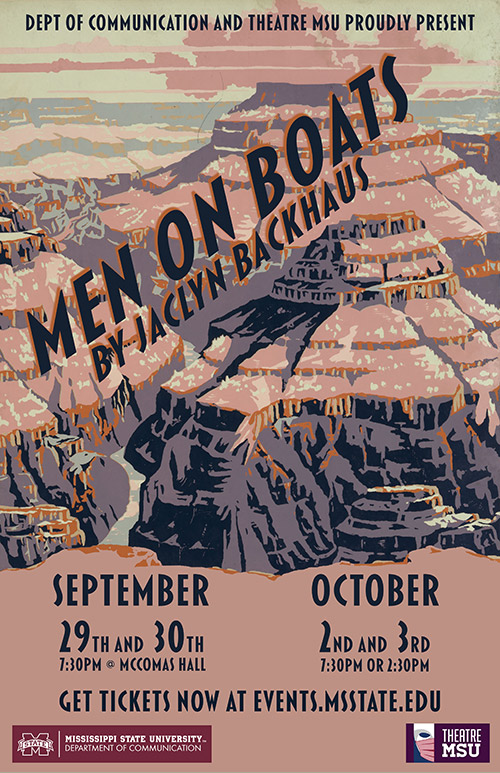 STARKVILLE, Miss.—Mississippi State's Theatre MSU—the Department of Communication's production division that recently garnered a 2021 School of Excellence Award in Higher Education from the Mississippi Alliance for Arts Education—debuts its new season this month.
In addition to its four annual mainstage productions, the season includes an additional original production in the lineup with a grant from the Mississippi Arts Council to promote social justice, diversity and inclusivity.
"We believe fervently in lifting up the voices of underrepresented artists and students," said Tonya S. Hays, assistant professor of theatre performance who writes professionally as T.S. Hays, about the production currently in the development stage.
On Sept. 29, Theatre MSU marks the beginning of its theatrical season with the Jaclyn Backhaus play "Men on Boats."
Based on the journals of John Wesley Powell, "Men on Boats" is the "true(ish) history of an 1869 expedition on which a one-armed captain and a crew of insane, yet loyal volunteers set out to chart the course of the Colorado River."
Presented on the McComas Hall main stage, "Men on Boats" runs Sept. 29, Sept. 30 and Oct. 2 at 7:30 p.m. An Oct. 3 matinee begins at 2:30 p.m.
Admission is $10, and tickets are available at https://msstate.universitytickets.com.
In November, Theatre MSU presents an original play "Banner: A Sea Turtle Saga"—part of the annual Theatre for Young Audiences show—featuring Banner, a green sea turtle, on a musical journey into the depths of ocean. The interactive, immersive encounter with marine life is in partnership with the MSU Northern Gulf Institute and was written by MSU's Hays. 
"Banner: A Sea Turtle Saga" will be performed for the public Nov. 14 at 2:30 p.m. The production will be offered exclusively for school audiences Nov. 17-19 at 9:30 a.m. and 12:30 p.m.
Planned for spring 2022, Theatre MSU will use its MAC grant to host Master Teacher Barbara Pitts McAdams—an artist-in-residence—who will provide workshops, education and insight for an original production of "Who Gets to be an American?"
McAdams is a co-author of "Moment Work: Tectonic Theater Project's Process of Devising," and a company member of the Tectonic Theatre Project.
Funding for the MAC grant is provided by the Mississippi Legislature, the National Endowment for the Arts, the Mississippi Endowment for the Arts at the Community Foundation for Mississippi, and other private sources.
Also in 2022, Theatre MSU will present "All American Boys" in February and "Once on this Island" in April. For more, visit  www.comm.msstate.edu/events.  
Part of the College of Arts and Sciences, the Department of Communication is available online at www.comm.msstate.edu.
Follow Theatre MSU on Facebook, Twitter and Instagram @TheatreMSU.
MSU is Mississippi's leading university, available online at www.msstate.edu.