Contact: Madison Welzbacher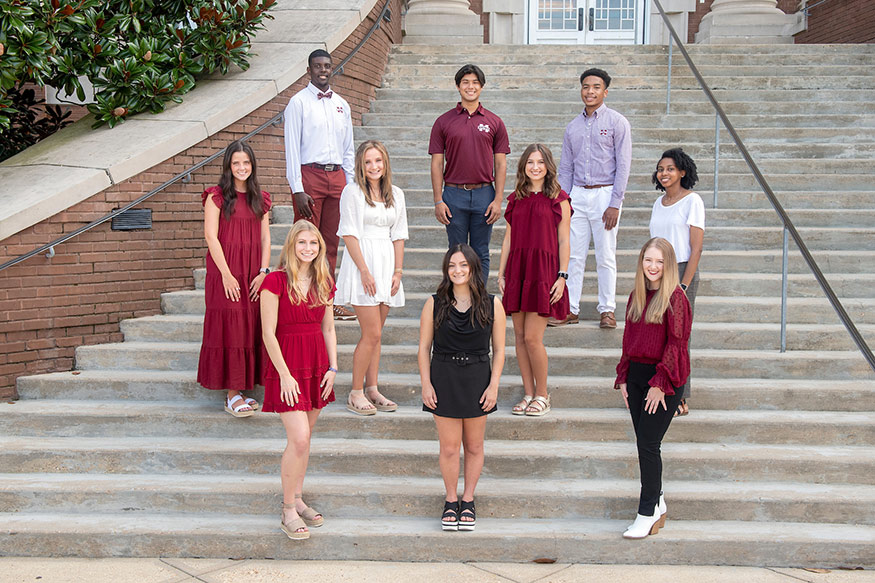 STARKVILLE, Miss.—Mississippi State University is releasing the names of its 2021 class of Luckyday Scholars, a group of 10 incoming freshman students from a variety of towns and majors.
The Luckyday Foundation was established by the late Frank R. Day of Jackson, who spent much of his professional career as chairman of the board and CEO of Trustmark National Bank. Day was a native of Aberdeen in Monroe County, only 38 miles from MSU. With the addition of Mississippi State in 2019, the Luckyday Scholars Program has a presence at the three major state public universities. The program offers scholarship funds to exemplary students that show leaderships skills as well as a high level of involvement with their community.
The scholarship includes $6,000 awarded to the student per year over four years. Requirements for the award include a minimum 3.0 high school GPA.
Recipients are selected via an application and interview process, in which students must demonstrate extensive leadership skills, work ethic, and school and community involvement. Recipients experience programming in servant leadership along with support from their Luckyday community and commit to service each semester in an agency of choice.
"Like all of our students, the young men and women who comprise our Luckyday Scholars are full of tremendous potential to make a difference in Mississippi and around the world," MSU President Mark E. Keenum said. "I am grateful for the Luckyday Foundation's support in helping these students pursue their goals and obtain an education that will prepare them for the leadership opportunities that the coming years will bring."
MSU's 2021 class of Luckyday Scholars includes, by hometown:
BATESVILLE—Bryson Reeves, marketing major;
BRANDON—Olivia Compton, undeclared;
FOREST—George Santamaria, finance major;
FULTON—Eliza Johnson, English major;
HERNANDO—Eden Douglas, civil engineering major;
LAUREL—Jaymar Jackson, II, biological sciences major;
MACON—Tomyah Smith, biomedical engineering major;
MCCOMB—Lily Warshauer, special education major;
MENDENHALL—Maggy Greer, biomedical engineering major;
SALTILLO—Kayden Wylie, educational psychology major;
Luckyday encourages its students to graduate in four years and maintain academic standards. It also puts an emphasis on students staying involved in their community through service and leadership.
For more on the Luckyday Scholars Program, visit www.luckyday.msstate.edu.
MSU is Mississippi's leading university, available online at www.msstate.edu.