Contact: Madison Welzbacher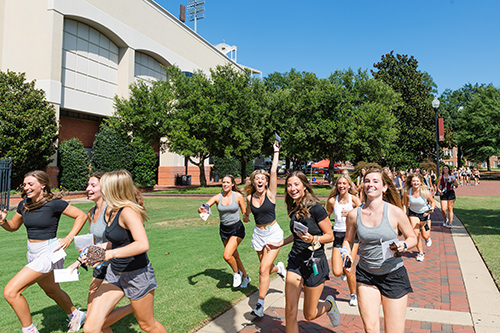 STARKVILLE, Miss.—Mississippi State University's Panhellenic Council has received the Excellence Award from the National Panhellenic Council, an honor only given to 14 university Panhellenic associations nationwide.
NPC strives to improve sorority life and is one of the world's largest advocacy groups for women. The organization gives out awards to college Panhellenic associations having made remarkable contributions to campus sorority life as well as the surrounding community. Associations may be given awards in individual categories such as service, programming, recruitment and leadership. However, the Excellence Award embodies all of these categories, with the recipient having excelled in all areas.
Jackie Mullen, assistant dean of students and the director of Student Activities and Fraternity/Sorority Life, said that it is a tremendous honor for MSU Panhellenic to be recognized by the NPC.
"This Excellence Award is hard to achieve, and I am proud of the hard work of the executive board of Panhellenic council, the chapter presidents, and chapter executive boards including chapter advisory board teams which have worked tirelessly to create a meaningful experience for all members of the Panhellenic community," Mullen said.
MSU Panhellenic Council is comprised of nine sororities, all part of the National Panhellenic Conference. The MSU Panhellenic community, made up of 2,423 students, has grown by 62% over the past 10 years. The council seeks to provide a safe, welcoming environment for the women in its chapters to thrive while on campus.
For more on the National Panhellenic Council, visit www.npcwomen.org.
For more on MSU Fraternity and Sorority Life, visit www.union.msstate.edu/student-activities/fraternity-and-sorority-life.
MSU is Mississippi's leading university, available online at www.msstate.edu.