Contact: Harriet Laird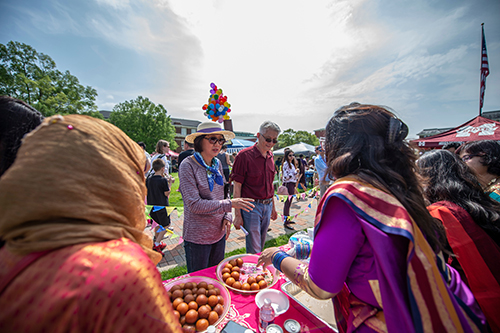 STARKVILLE, Miss.—Mississippi State is again among a select group of universities nationally recognized for outstanding commitment to diversity and inclusion.
A 2021 recipient of the Higher Education Excellence in Diversity Award, Mississippi State is the only Magnolia State college or university—and one of only three in the Southeastern Conference—garnering the achievement given by INSIGHT Into Diversity magazine. MSU also received the HEED award in 2019.
Regina Hyatt, MSU vice president for student affairs, said it's an honor being one of only 101 universities across the nation recognized for campus-wide efforts related to diversity, equity, and inclusion.
"Mississippi State continues to invest in making this a place where all students can succeed and where we have employees who value and embrace the diverse experiences of our students and each other," she said. "Through our newly formed Division of Access, Diversity and Inclusion, we have significantly grown our human and programmatic resources to meet the needs of our increasingly diverse community and to help build capacity of the university community to ensure a welcoming and supportive environment for us all."
Among the university's success stories in diverse programming are the Summer Bridge initiative with a commitment to grow the number of minority graduates from MSU's Bagley College of Engineering by increasing enrollment of women and African American students. First-year students are provided on-campus housing, class instructors, peer counselors, meal stipends, textbooks and materials during the five-week summer program at no cost.
Bully's Closet and Pantry assists hundreds of MSU students experiencing food insecurity, a national problem that affects about 30% of college students. Nutritious food, toiletries and other basic necessities are available free of charge. Also, the university hosts an annual International Fiesta, a day of cultural exchange bringing student communities together and fostering ethnical pride through food, music, dance, games and more.
"Our growing diverse community enhances Mississippi State, an environment where students, faculty and staff are creating and nurturing spaces of belonging, developing interdisciplinary opportunities for increasing knowledge, and developing culturally enhanced programming," said MSU Vice President for Access, Diversity and Inclusion Ra'Sheda Forbes. "The HEED award highlights that we're committed to inclusive excellence at MSU."
In the fall of 2020, MSU created a senior-level administrative position to further advance the 143-year-old land grant's work of inclusive excellence on campus. Forbes was named the university's vice president for access, diversity and inclusion. In this role, she oversees such initiatives as the Holmes Cultural Diversity Center; Office of Institutional Diversity and Inclusion; TRiO first-generation student program; Promise Program for economically challenged students; and MSU Thrive for those in the foster care system. This fall, MSU added another management position, assistant vice president for access, diversity and inclusion to further broaden these and other initiatives.
 This year's HEED honorees will be featured in the November issue of INSIGHT Into Diversity magazine, which is available online at insightintodiversity.com.
For more on MSU's diversity and inclusion efforts, visit the Office of Institutional Diversity and Inclusion, www.oidi.msstate.edu; the Division of Student Affairs, www.saffairs.msstate.edu; and the Holmes Cultural Diversity Center, www.hcdc.msstate.edu.
MSU is Mississippi's leading university, available online at www.msstate.edu.