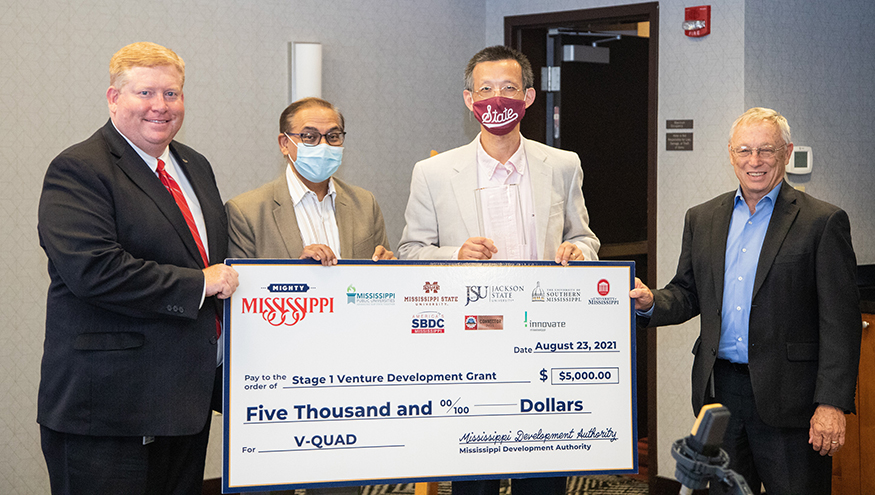 Contact: Vanessa Beeson
STARKVILLE, Miss—For a team of Mississippi State researchers, concrete design isn't set in stone.
Jilei Zhang, Warren S. Thompson Professor of Wood Science and Technology, and a team of MSU Department of Sustainable Bioproducts researchers have rethought the material's design and cemented their product's status by participating in the Mississippi Development Authority's inaugural V-Quad competition, a U.S. Department of Energy-sponsored initiative to boost innovation in the state's energy and agriculture sectors. Last month, Zhang's team won $7,500 during the "Pitch in the V-Quad" competition with his patented technology using bio-based waster material to produce graphene for concrete production.
The team's winnings, supported by the DoE's Energy Program for Innovations Clusters prize, will be used for the team to complete an industrial scale trial run with a Columbus-based masonry manufacturer to conduct usage, testing and certification of the product on a commercial scale.
The catalytic thermal conversion process makes biomass-graphene using the original polymer lignin as a carbon source. The technology avoids the use of harsh chemicals and can potentially reduce cement usage in concrete production by up to 20 percent. Cement production alone contributes to 8 percent of global carbon emissions annually. The technology significantly lowers production costs, improves strength and reduces the material's carbon footprint.
"The idea is to reduce cement consumption in concrete while maintaining or improving its strength. By replacing a portion of cement with graphene, we can save money while reducing the carbon footprint. We use graphene—a high tech, advanced material—to solve a traditional problem. Meanwhile, we use traditional material—biomass waste from the paper industry—to create the high-tech material. We're taking waste, reducing what would be traditional mining of graphene and solving the problem of the environmentally-intensive production of concrete," Zhang said.  
The team received a $5,000 Stage 1 Venture Development Grant this spring, as well as access to a 10-week V-Quad accelerator training course, while MDA provided mentoring and market analysis as the team completed a venture development report. The initial grant helped researchers validate the technology in a lab trial.
Sumesh Arora, director of MDA's Energy and Natural Resources Division and V-Quad team co-leader, said the program promotes collaboration between research universities like MSU and the public and private sectors.
"V-Quad is a unique opportunity for Mississippi to tie together our existing assets and create a cohesive network of exemplary stakeholders from our research universities and public and private sectors. We're excited MDA is leading this effort to encourage new technology development in energy and agriculture. Dr. Zhang's technology can help meet the needs of the industry on a global scale by using waste materials to improve the material properties of concrete production, while also lowering its environmental impact," he said.
Jeremy Clay, director of the MSU Office of Technology Management, brought the V-Quad opportunity to Zhang's attention and is excited to see how the second round of funding will further develop the technology.
"The proof of concept with a commercial provider is the gold standard, and if everything goes smoothly, the patented technology is ready for market. Currently, we're actively looking for commercial partners to bring it to market," he said.
Clay noted that the V-Quad program is a great opportunity for MSU researchers whose technology may be close to market.
"This program helps researchers better understand the process and see if their ideas are ready for market and if not, what it takes to get there," he said.
In addition to Zhang, MSU researchers on the technology include Xuefang Zhang, assistant research professor, and Jason Street, associate professor, both in the Department of Sustainable Bioproducts in the Forest and Wildlife Research Center. Collaborators include the United States Department of Agriculture's Forest Service Forest Products Laboratory.
To learn more about the Department of Sustainable Bioproducts, visit www.cfr.msstate.edu/bioproducts. To learn more about licensing the technology, contact Jeremy Clay via email at jeremy.clay@msstate.edu or call 662-325-8222.
MSU is Mississippi's leading university, available online at www.msstate.edu.