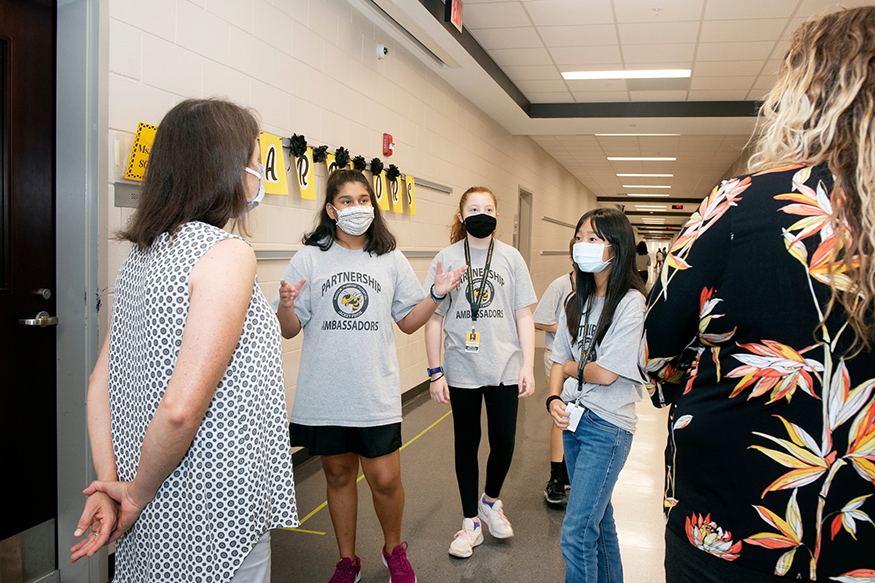 Contact: James Carskadon
STARKVILLE, Miss.—Collaboration between Mississippi State University and Starkville Oktibbeha School District continues to grow as Partnership Middle School begins its second year of operation.
Located on the MSU campus, the school opened August 2020 and serves all sixth and seventh grade students in the school district. It also serves as a demonstration site for preservice educators in the MSU College of Education. Administrators from MSU and SOSD are continuing to build on current collaborations and develop new ones. Amanda Tullos, MSU liaison for Partnership Middle School, said there are many new initiatives in the planning stages, including innovative ways MSU and SOSD can work together to promote college and career awareness.
"As we begin year two in the Partnership School, I am looking forward to seeing the continued implementation of our shared plans," Tullos said. "From middle school students having increased on-campus learning experiences and on-site interaction with MSU Museums and Galleries to MSU students learning, teaching and serving in the school alongside professors, instructors, middle school educators and students, we have many exciting opportunities planned. I look forward to the impact on students, current and future educators, and our community."
MSU and SOSD continue to advance the GrOW classroom, which has received extended funding from Blue Cross and Blue Shield of Mississippi Foundation. The university's Extension Service and Research and Curriculum Unit have assisted with an agriculturally-based health and nutrition curriculum to go along with the expansive gardens being established at the school. MSU Museums and Galleries is working to place rotating exhibits in school display cases, with student leaders providing input on what they would like to see in the future.
Additionally, a new piano lab was installed at the school over the summer with support from the Starkville-MSU Symphony Association. Complete with keyboards/digital pianos, two-way communication headphones and workstations, the lab allows teaching in a group setting with the flexibility of individual instruction.
"The design of Partnership Middle School is built around engaging learning spaces that extend beyond the traditional classroom for students and teachers in our school and for future teachers who are students at Mississippi State University," said SOSD Superintendent Eddie Peasant. "As gardens are completed and a piano lab is installed, excellent learning experiences that support collaboration between the school district and the university are further expanded."
With the MSU academic semester underway, approximately 50 middle block students in the College of Education are completing their field experience at Partnership Middle School. The MSU students will be able to embed with a single team of educators and students for the semester. The school district and MSU are also working together to identify relevant leaders and experts for potential professional development or seminar sessions at the school.
"The Partnership School gives our preservice educators a unique experience and more exposure to classroom settings, which is invaluable as they begin their careers," said College of Education Dean Teresa Jayroe. "As we continue our collaboration and communication between the college and the SOSD, there is so much potential to positively impact students and our preservice teachers who will soon be leading classrooms throughout Mississippi."
An ambassador program has been established for seventh graders at the school, creating a leadership group among students. In addition to providing a voice for their fellow students, the ambassadors are helping to give tours of the new school. Maroon VIP students from MSU were able to lead training sessions for the middle school ambassadors.
For more on Partnership Middle School, visit www.partnership.msstate.edu.
MSU is Mississippi's leading university, available online at www.msstate.edu.