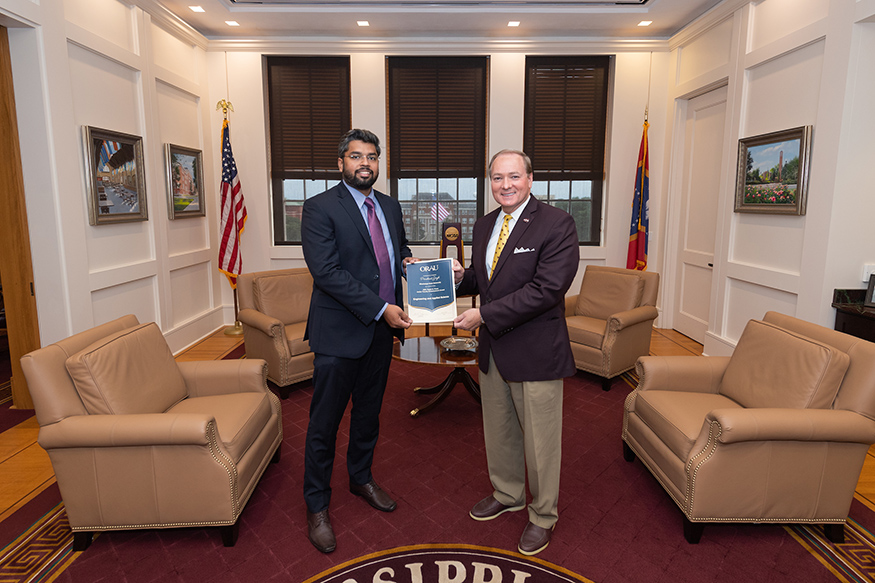 Contact: James Carskadon
STARKVILLE, Miss.—A faculty member in Mississippi State's James Worth Bagley College of Engineering is among this year's recipients of the Ralph E. Powe Junior Faculty Enhancement Awards from Oak Ridge Associated Universities.
Prashant Singh, assistant professor in the Department of Mechanical Engineering, will receive $10,000 in seed money to support his research through the award program, with the $5,000 grant from ORAU being matched by MSU. He is among 35 junior faculty members from ORAU institutions receiving the honor, which aims to support the development of young faculty. ORAU is a consortium of more than 100 universities that provides innovative scientific and technical solutions to advance national priorities in science, health, education and national security.
"As a research institution, ORAU is proud to recognize and support the research and professional development of the 35 emerging leaders who are receiving Powe Awards this year," said Ken Tobin, ORAU vice president for research and university partnerships. "The Powe Award program benefits our member universities and is always extremely popular because it provides an opportunity for young faculty members to further their research careers and pursue new funding avenues."
Singh's research focus is on heat transfer enhancement, advanced electronics cooling, thermal energy conversion and storage, and advanced thermal diagnostics, among other areas. An MSU faculty member since 2019, he earned a bachelor's degree from India National Institute of Technology, a master's degree from Arizona State University and a doctorate from Virginia Tech, all in mechanical engineering.
"The award will advance the fundamental understanding of heat transfer and liquid flow through additively manufactured compact lattice topologies for electronic packaging applications," Singh said. "The long-term goal of this research is to leverage the advancements in metal additive manufacturing in the development of high-performance, compact, lightweight and cost-effective solutions to the increasing demands for high heat flux dissipation in modern electronic devices."
ORAU's Powe Awards honor the late MSU alumnus and former research vice president Ralph E. Powe, who was active in several ORAU committees and special projects during his 16-year tenure as MSU's ORAU councilor.
"This award recognizes Dr. Singh's immense research talent and potential as he continues the next steps in his career," said Julie Jordan, MSU vice president for research and economic development and ORAU member councilor.  "We have outstanding early career faculty across campus that are in the process of building and expanding their impactful research programs, and I am proud to see them recognized and supported by organizations such as ORAU."
For more on ORAU, visit www.orau.org.
MSU is Mississippi's leading university, available online at www.msstate.edu.