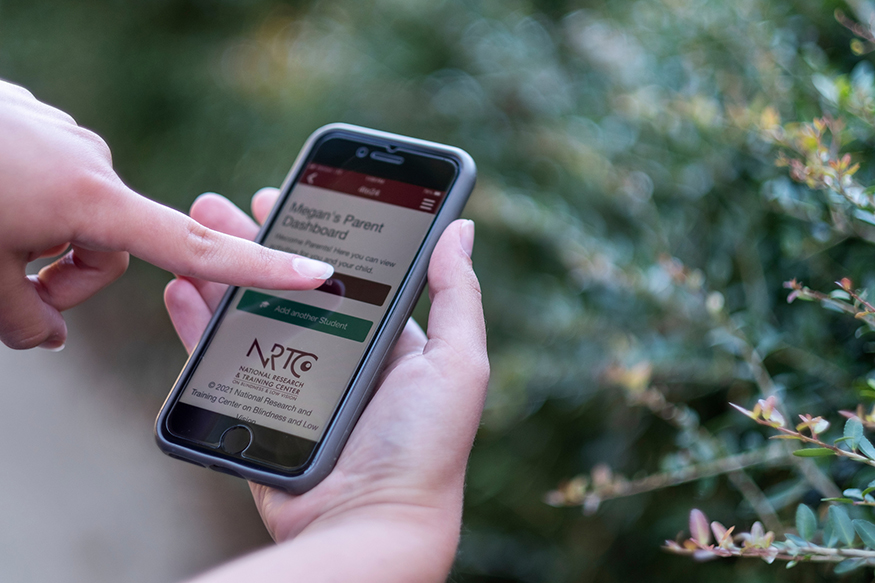 Contact: Madison Welzbacher
STARKVILLE, Miss.— Mississippi State's National Research and Training Center on Blindness and Low Vision has released 4to24, a free app designed to help blind or visually impaired youth with employment outcomes.
While youth with blindness or low vision are more likely to pursue post-secondary education, they are less likely to be employed as adults. Several factors are to blame such as the job market itself and employer bias. However, another cause can be the youth's lack of preparation for employment. NRTC has attempted to address this issue through the creation of the 4to24 app.
The app is targeted to parents of blind or low-vision youth from ages four to 24, as well as visually impaired youth from ages 16 to 24. It provides information about various topics based on user personalization with a focus on the user's vocational and educational goals. Topics include various life skills such as traveling, technology, social skills, and independent living based on the user's personalization. The app also suggests activities to build skills related to the topics, as well as additional links to online resources.
Karla Antonelli, a research scientist for NRTC, said that she believes the app will help parents see what their children can accomplish.
"For kids who are blind or have low vision, we believe one of the most important things is for their mom or dad to know what their child is capable of," Antonelli said. "The 4to24 app gives parents the power of that knowledge so they can support and advocate for their children as they grow."
The app was developed by NRTC researchers and staff through input from focus groups, usability testing, as well as a field test. There is also a separate version of the app, intended for parents of deaf-blind youth with additional disabilities, that recently completed field testing and is also now available. Its focus is on building communication and supports as needed for deaf-blind youth to participate in community life and employment to their highest potential.
The 4to24 app is available for iPhone and Android and can be downloaded for free on the Apple App Store, Google Play as well on the web at 4to24.org.
For transition resources for blind/low vision youth, visit www.blind.msstate.edu/our-products/transition-resources.
For more information on how to download and navigate the app, visit www.ntac.blind.msstate.edu/consumers/4-24-app.
MSU is Mississippi's leading university, available online at www.msstate.edu.