Contact: Sarah Nicholas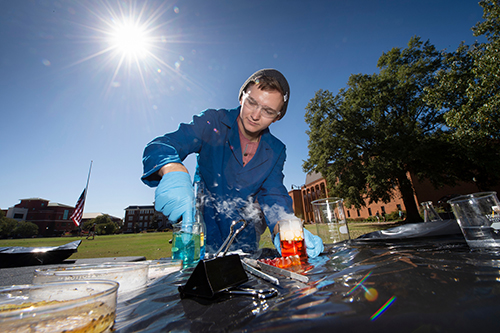 STARKVILLE, Miss.—National Chemistry Week begins this Saturday [Oct. 16], with a tailgate extravaganza in conjunction with Mississippi State's home football game.
Offering one week of fun science projects, NCW is organized by the Department of Chemistry's Student Members of the American Chemical Society, or SMACS—one of only 49 chapters in the U.S. in 2020-21 to receive an ACS Outstanding Chapter Award. 
A student organization designed to promote the professional development of STEM (science, technology, engineering and mathematics) majors and to stimulate interest in chemistry, SMACS this year is collaborating with the Chemistry Graduate Student Association for NCW efforts.
"We will kick off the week with our annual tailgate—presenting two or three demo shows," said SMACS President Sabrina C. Solomon, a senior chemistry major from Meridian. "Our theme for NCW this year is 'Racing to Reactions' based on the national theme of 'Reaction Rates.'"
Solomon said NCW allows students of all ages to enjoy the "fun parts" of chemistry.
"I am a people person, and I really enjoy interacting with others and telling them about my passion for chemistry," she said. "I was raised by a teacher, who brilliantly shows her passion for teaching, so I have that ingrained in me. Showing and teaching others our passions is what NCW is all about."
Events include:
—Saturday, Oct. 16, NCW Tailgate Extravaganza: Located at the grassy area in front of the Lloyd-Ricks-Watson Building, across from WMSV radio station, 1-4 p.m. The fourth annual tailgate extravaganza prior to the MSU vs. Alabama football game will include action-packed chemistry demonstrations such as a strawberry DNA extraction, music and a craft area for making tie-dyed T-shirts, slime and colorful buttons.
—Monday, Oct. 18, SMACS Bake Sale: Drill Field, 10:30 a.m.-1:30 p.m. (or while supplies last). Enjoy homemade baked goodies, buy NCW and gameday buttons, and take free stickers.
—Tuesday, Oct. 19, NCW Demos: Drill Field, 9:30-11:30 a.m. SMACS will present chemistry demonstrations such as the screaming gummy bear, ping-pong eruption, stoplight reaction, and the California snowballs reaction. Participants will learn the science behind all experiments.
—Saturday, Oct. 23, National Chemistry Day: Drill Field, 10 a.m.-noon. Demonstrations and a Hot Wheels car racetrack will be available in honor of "Mole Day," named in honor of Italian scientist Avogadro's number 10/23.
Founded in 1878, MSU's Department of Chemistry is the oldest ACS-accredited program in the state. The department serves the basic science and higher-level chemistry curricula needs of nearly every major on campus.
For more information on MSU's National Chemistry Week events, contact Eric Van Dornshuld, NCW chair and SMACS advisor, at 662-325-8452 or edornshuld@chemistry.msstate.edu.  
Part of the College of Arts and Sciences, the Department of Chemistry can be found on Twitter @chem_msstate; Student Members of the American Chemical Society on Facebook @MissStateSMACS and Twitter and Instagram @SMACS_MSU; and Chemistry Graduate Student Association on Facebook @CGSA.MSState, Twitter and Instagram @CGSA_MSState.
MSU is Mississippi's leading university, available online at www.msstate.edu.