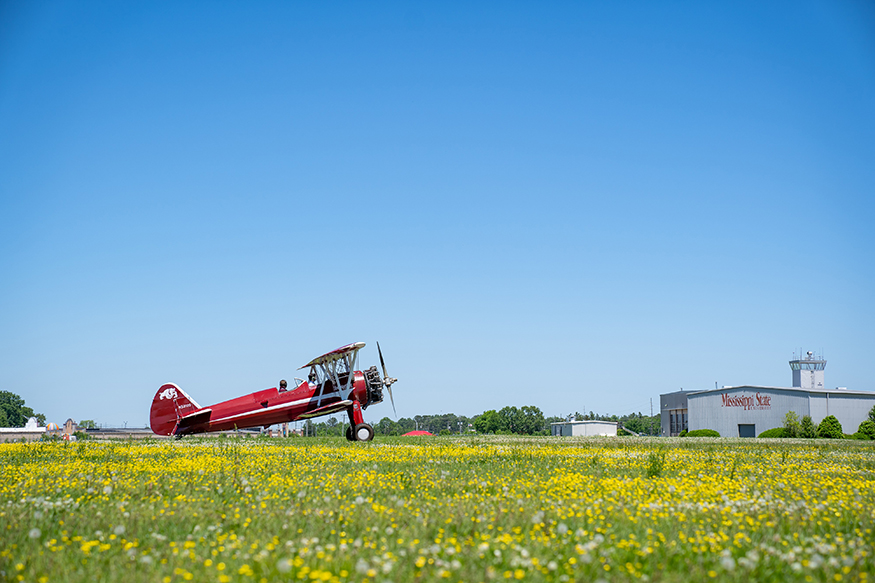 Contact: Chris Bryant
STARKVILLE—A Boeing Stearman biplane owned by Mississippi State's Raspet Flight Research Laboratory will be displayed during Saturday's Wings Over Winston Airshow at the Louisville Winston County Airport.
Gates open for the free event at 9:30 a.m., and the airshow begins at 11 a.m.
"While our lab is best known for our unmanned aircraft systems research, we have a rich history in manned aviation that continues today," said Tom Brooks, director of the Raspet Flight Lab. "We're pleased to participate in Wings over Winston and look forward to visiting with the many aviation fans and supporters in attendance and providing them a close-up look at one of our special planes."
The 1940s-era Boeing Stearman PT-17 serves as the centerpiece of Raspet's manned aircraft fleet. Stearman biplanes are best known for training U.S. Army Air Corps and Navy pilots during World War II. Acquired by MSU from Army surplus in 1950, the Stearman was used by August Raspet – after whom the lab is named. The plane, which has fabric-covered wings, was upgraded by the university with a new engine and still takes flight today.
Additional information about Wings Over Winston is available on the event's website.
MSU's Raspet Flight Research Laboratory is the nation's leading academic research center dedicated to the advancement of unmanned aircraft systems. Raspet is the only institute in the world designated both as the FAA's UAS Safety Research Facility and as official UAS Test Sites for both the FAA and the Department of Homeland Security. Home to a fleet of the largest and most capable unmanned aircraft in academic use, Raspet conducts UAS research on behalf of federal agencies and commercial industry alike, and it remains a world leader in composite material research.
MSU is Mississippi's leading university, available online at www.msstate.edu.