Contact: Allison Matthews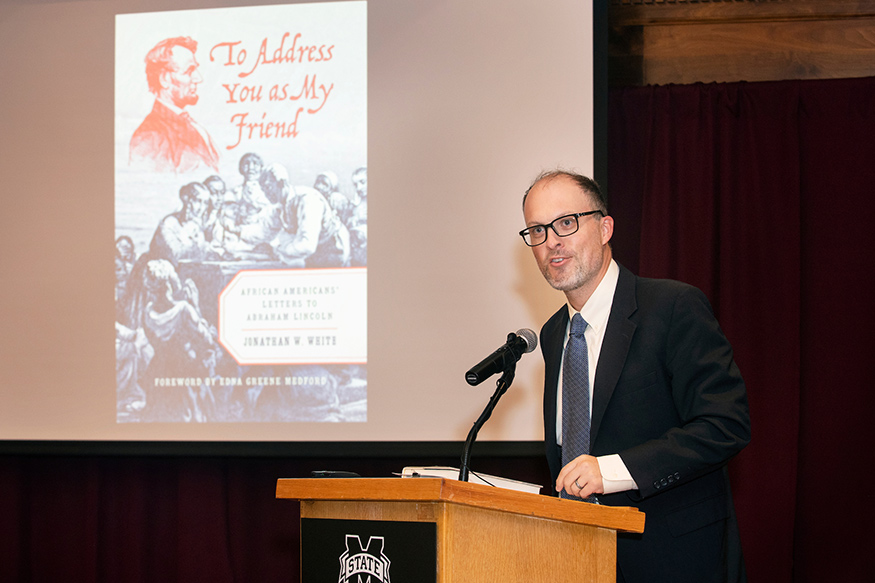 STARKVILLE, Miss.—An author whose newly published book brings to light 125 letters written by African Americans throughout the Civil War era to President Abraham Lincoln was the featured speaker Thursday [Oct. 28] for a signature lecture series at Mississippi State.
Jonathan W. White, associate professor of American Studies at Christopher Newport University in Virginia, was the guest for the fourth annual Frank and Virginia Williams Lecture on Lincoln and Civil War Studies. The timely visit was just two days after publication of his newest book, "To Address You As My Friend: African Americans' Letters to Abraham Lincoln" (The University of North Carolina Press). Donald M. Shaffer Jr., MSU associate professor of English and director of the African American Studies program, lauded the book, calling it "a page-turner."
White said he researched letters from various sources, and more than 20 were housed in the Library of Congress, while the majority came from the National Archives. "These are letters that Lincoln kept in his personal collection, and so we get a sense that these letters probably meant something special to Lincoln," White said.
He shared several stories of individuals—primarily African American men, but also some women—who had sent deeply personal letters on numerous topics to Lincoln. Some of the letters were from people who had met or knew Lincoln well, and others were communicated from individuals concerned about a variety of national issues or personal situations. They came from writers who were enslaved and others who were free. Many of the letters sought permission for missionary or military service.
White explained that at the beginning of the Civil War, Lincoln had been a proponent of colonization of formerly enslaved African Americans in other countries. "A number of African Americans wrote public letters about colonization. A few were supportive of colonization," he explained, "but most were against colonization."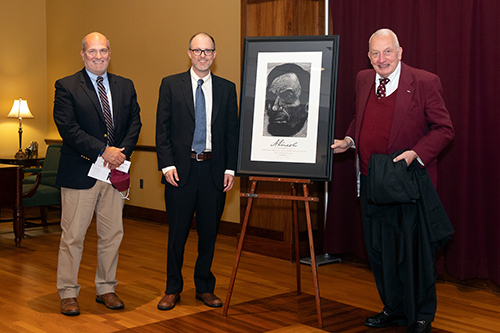 One excerpt White read from a letter written by A.P. Smith said, "Pray tell us, is our right to a home in this country less than your own, Mr. Lincoln?"
It later continued, "If through all these years of sorrow and affliction there is one thing that we have been noted more than all else, it is our love of country, our patriotism," Smith wrote.
White said patriotism is one of the "big themes" that comes out in these historical correspondences.
"'This is our country—we don't want to go somewhere else. We want equality and political rights here,'" White summarized the sentiments he had researched, explaining that these types of communications changed Lincoln's mind on colonization and other issues.
Another story White recounted was the story of Dr. Alexander T. Augusta, who wrote about how he had to leave the United States because of racial prejudice in order to pursue his dream of education and becoming a medical doctor. He later wrote to Lincoln to ask for permission to become a surgeon in the U.S. Army. Upon arrival for examination, he faced racial discrimination. Nevertheless, Augusta persevered through intense scrutiny and a "squeezing process," but those examining him recognized the likelihood that Augusta had superior knowledge than even his questioners. He later was commissioned as a Major in the Union Army and was the highest ranking African American of the Civil War era, although he continued to face "an extraordinary amount of discrimination as a soldier."
White said Augusta's story will be detailed in the forthcoming spring issue of The Lincoln Forum Bulletin. White serves as vice chair of The Lincoln Forum, which Frank Williams helped establish more than 25 years ago. The author of a dozen books about Lincoln and the Civil War also is on the boards of several Lincoln and Civil War-based associations.
The Frank and Virginia Williams Collection of Lincolniana is located in Mitchell Memorial Library and represents a lifetime of work collecting documents, books, artifacts, ephemera, philately, numismatics, paintings and statuary related to the life of the 16th U.S. president and the Civil War in general. The lecture series brings leading scholars to campus to share knowledge and expertise.
In addition to housing the Williams Collection, MSU is home to the Ulysses S. Grant Presidential Library, making the university a leading destination for research on the Civil War, Reconstruction and the nation's 16th and 18th presidents.
For more information, visit www.library.msstate.edu.